Hazrat 'Umar Accepts Islam
 Hazrat 'Umar was twenty-seven when the Prophet (PBUH) was blessed with messengership. Due to Zayd, the message of Tawheed (Oneness of God) was already introduced in Hazrat 'Umar's family. Zayd's son Sa'eed, had accepted Islam and was married to Hazrat 'Umar's sister Fatima, due to which she had also entered into Islam. Nu'aym bin 'Abdullah, a respectable member of the same family, had also accepted Islam. Hazrat 'Umar was still out of the fold of Islam. When he heard about the message of Islam, he became very hostile against those of his tribesmen who had converted to Islam. Lubayna was a slave maid in his family. He kept on beating her until he was exhausted. He punished all those persons physically whom he could. But instead of severest persecution that he inflicted on helpless Muslims, he did not succeed in forcing even one single Muslim to renounce Islam. Finding no way out, he decided to (God-forbid) assassinate the Prophet (PBUH).
     Accordingly, one day he wore arms and headed for the Prophet (PBUH) .In the way he accidentally met Nu'aym bin 'Abdullah, who inquired of him his intention due to his looks. Hazrat 'Umar told him that he was on the way to settle the problem raised by the Prophet (PBUH)  forever by putting him to death. Nu'aym told him that he should set right his own house first, as his sister and brother-in-law had already accepted Islam. Immediately, Hazrat 'Umar turned back and reached the house of his sister. She was reciting the Qur`an at that time. Hearing his footsteps, she became silent and hid the leaves of the Qur`an.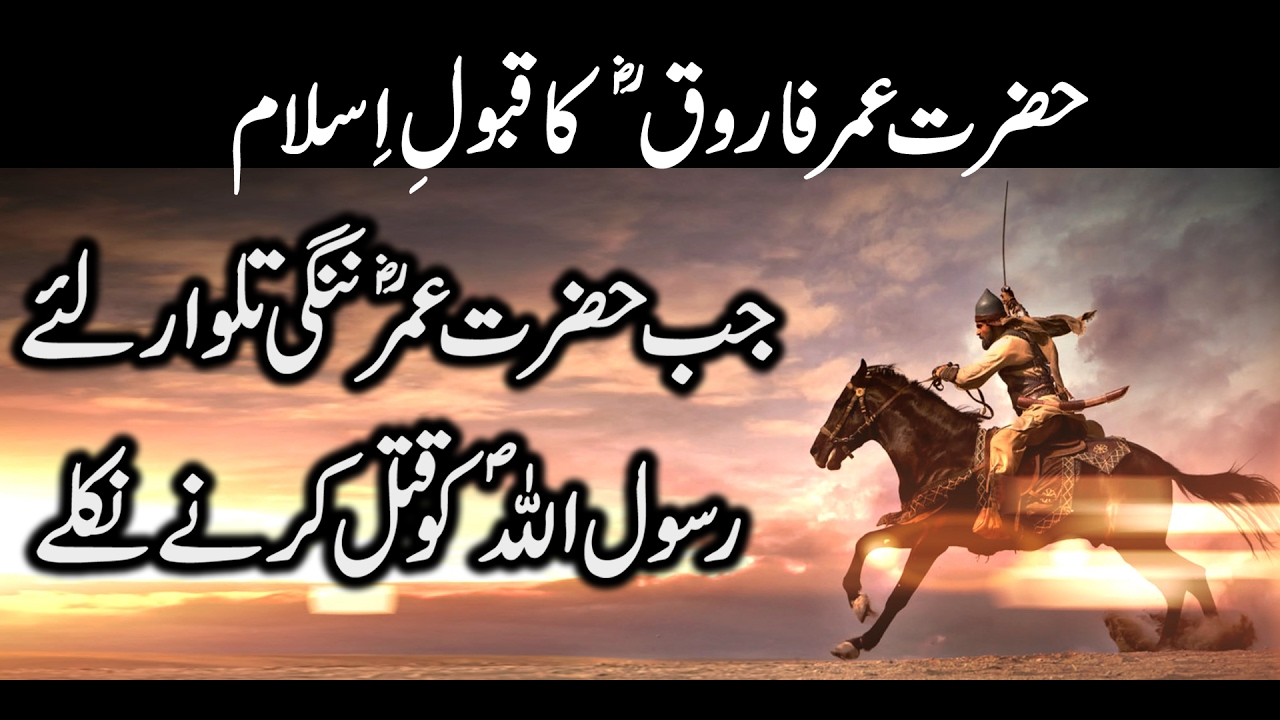 But Hazrat 'Umar had heard the words and inquired of her what she was reciting. She tried to explain it away as nothing significant, but he challenged her by saying that he already knew the fact that she and her husband had renounced their previous faith. Saying this he grabbed his brother-in-law and entered into a scuffle with him. When his sister intervened, he hit her too, to the extent that she started bleeding. Hazrat 'Umar's violence, however, increased her love for Islam. She said resolutely, "'Umar! Do whatever you can, but the love of Islam will not leave our hearts now." These words touched Hazrat 'Umar's heart. He looked at his sister lovingly. She was bleeding, which created a sense of remorse in his heart. He asked his sister to show him what she was reading: "Bring it to me. I will see what Muhammad's message is."
    Fatima, his sister expressed her concern that 'Umar might treat the Book with disrespect. He assured her on oath in the name of his gods that he would return it to her after reading. His sister became somewhat hopeful that the time for his guidance might have arrived. She told him that she couldn't let him touch the leaves of the Qur`an as he was a polytheist (Mushrik) and unclean and that the Book of Allah could be touched only by a clean person. 'Umar took a bath. Fatima then gave her the leaves of the Qur`an. When he opened it, the Surah Taha was in front of him. As soon as he finished the beginning part of it, he could not resist saying: "What a sublime and honorable word!"
      Hazrat Khabbab, who had been hiding all this while, came out and said, "O 'Umar! It seems that Allah has accepted the supplication of His Prophet (PBUH) .I heard him last night praying, 'O Allah! Strengthen Islam with Hakam bin Hisham (Abu Jahl) or 'Umar bin Khattab.' 'Umar! Appreciate this blessing." 'Umar asked Khabbab to tell him where the Prophet (PBUH) was at that time so that he could go to him and accept Islam. Khabbab gave him the address. Those days the Prophet (PBUH) had taken residence at the house of Arqam, which was located at the foot of the Safa Mount. Reaching the house, Hazrat 'Umar knocked at the door. As he was armed, the Companions became apprehensive, but Hazrat Hamza told the Companions: "Let him in. If he has come with good intention, he is welcome. Otherwise I will behead him with his own sword." When Hazrat 'Umar stepped in, the Prophet (PBUH) advanced, and by holding the front part of his upper wear asked him, "Why, 'Umar! With what intention have you come?" 'Umar® was awed by the confident tone of the Prophet (PBUH) and replied in a voice charged with sincerity, "To embrace Islam." Overjoyed, the Prophet (PBUH) chanted the Islamic slogan Allahu Akbar (Allah is greatest) loudly. The Companions also chanted the slogan Allahu Akbar so loudly that the surrounding hills resounded with the echo. (As-Seerah An-Nabawiya liz-Zahabi, 102-03, Sahih Bukhari)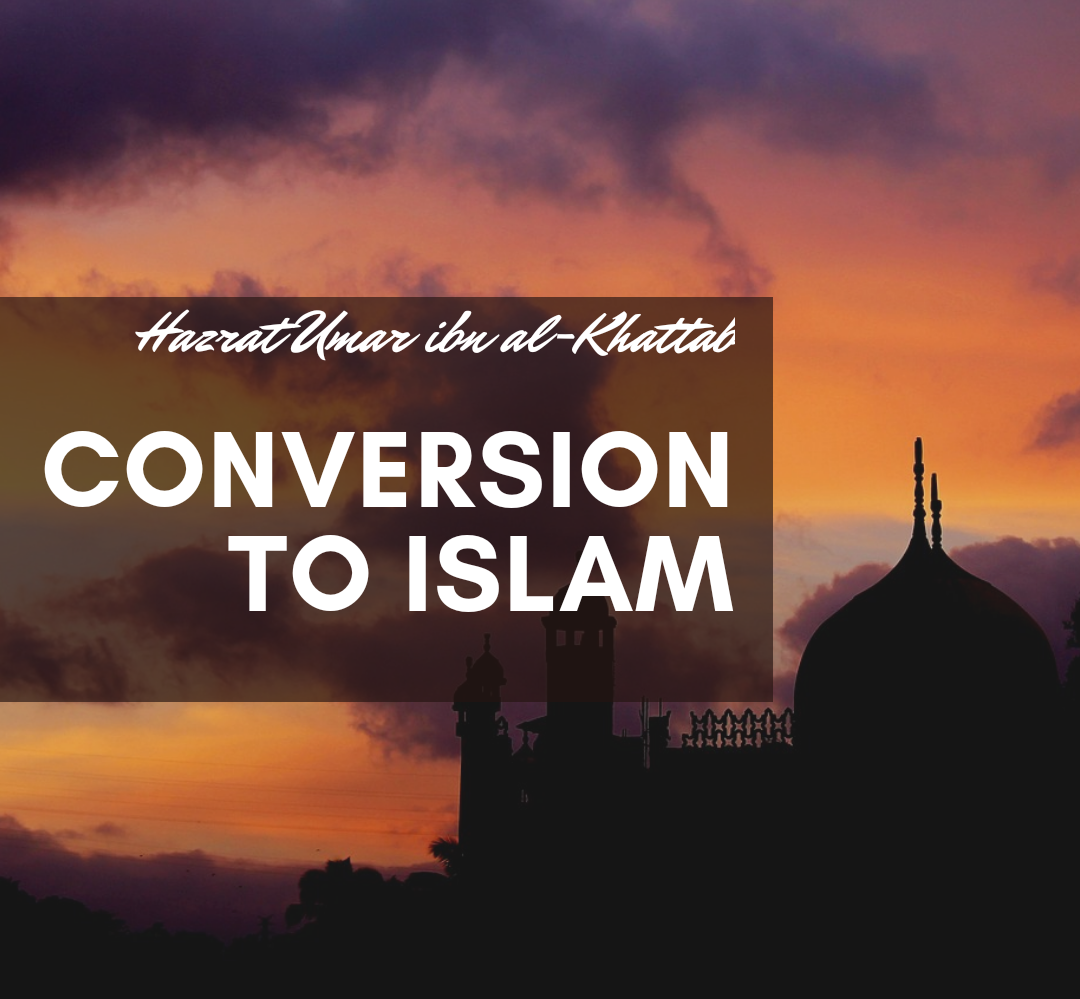 Hazrat 'Umar's conversion proved to be a new phase in the history of Islam. Although forty to fifty persons had accepted Islam by that time, including Hazrat Hamza who was well known for his chivalry, Muslims did not dare to practice the injunctions of Islam openly. Offering prayers (Salah) in K'aba was out of question. With 'Umar's conversion, the situation suddenly changed. He publicly announced his acceptance of Islam. He was opposed by the disbelievers tooth and nail in the beginning, but he faced the situation and remained steadfast. He then went to Al-Haram with other Muslims and offered Salah there openly. (Tabaqat Ibn S'ad, 3: 370.)
    About eighty-three Muslims had emigrated to Abyssinia (Habsha). They were living their comfortably when a rumor spread there that the disbelievers of Makkah had accepted Islam, by hearing which most of them decided to return to Makkah. When they reached near the city, they learned that the news was untrue. Some of them returned to Abyssinia, while most of them entered Makkah stealthily. (As-Seerah An-Nabawiya liz-Zahabi, p. 113) 
  About CEO Al-Asad Online
Hafiz Abdul Hameed
Master In Islamic Studies
(Tajweed, Waqf)
Web Developer/Administrator
Web Content Writer
Blogger, SEO Expert
Graphic Designer
WhatsApp: +92 3017363500
E-Mail: hdhuddi@gmail.com
https://youtu.be/B9-T1QV4MBk