It is the Arabic letters Noon is an Sun letter.
How to write the Arabic Letter Noon appears
What does HTML0 mean? Arabic Noon letter is pronounced? Noon sounds
ن is The English letter N that is made with the help of pressing your tongue against the over the top portion in the mouth and blowing air out of the mouth.

Have you noticed that (Kaaf-Laam-Meem-Noon) follow the same order as their English counterparts (K-L-M-N)? This will make it easier to remember the sequence.
Basic Sample Words of Noon in various states
ن can be connected with both ends. It has three different types based on its location in the words: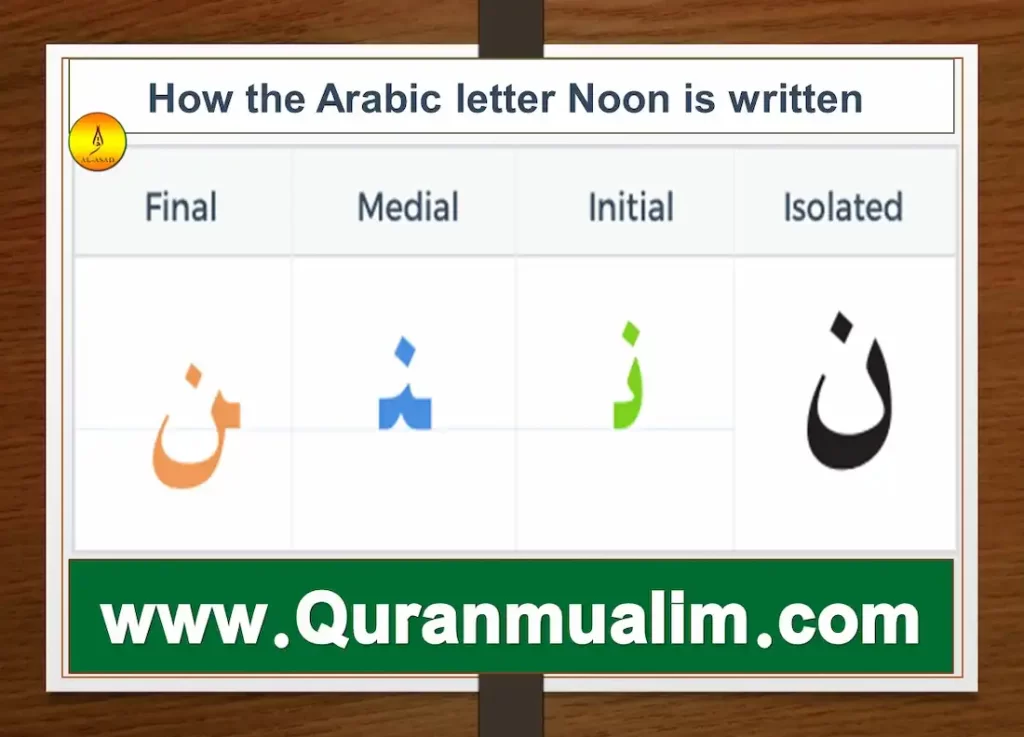 Word examples with the Arabic Noon letter with diacritics
ن encompasses all four kinds of sounds:
ن, with a fatha: ( Na ) ("na" ) has the sound of a soft squeak like:
Na in National
na in Ca nal
It could also be a gruff sound similar to:
Noon with a kasra ("ni" ) ( Ni ) can be described as:
A damma at noon is like:
No in Note
no in Technology
ن and sokoon ("n" ) (" ) is a sound that resembles:
n in Angel
n in Pla n or Gree n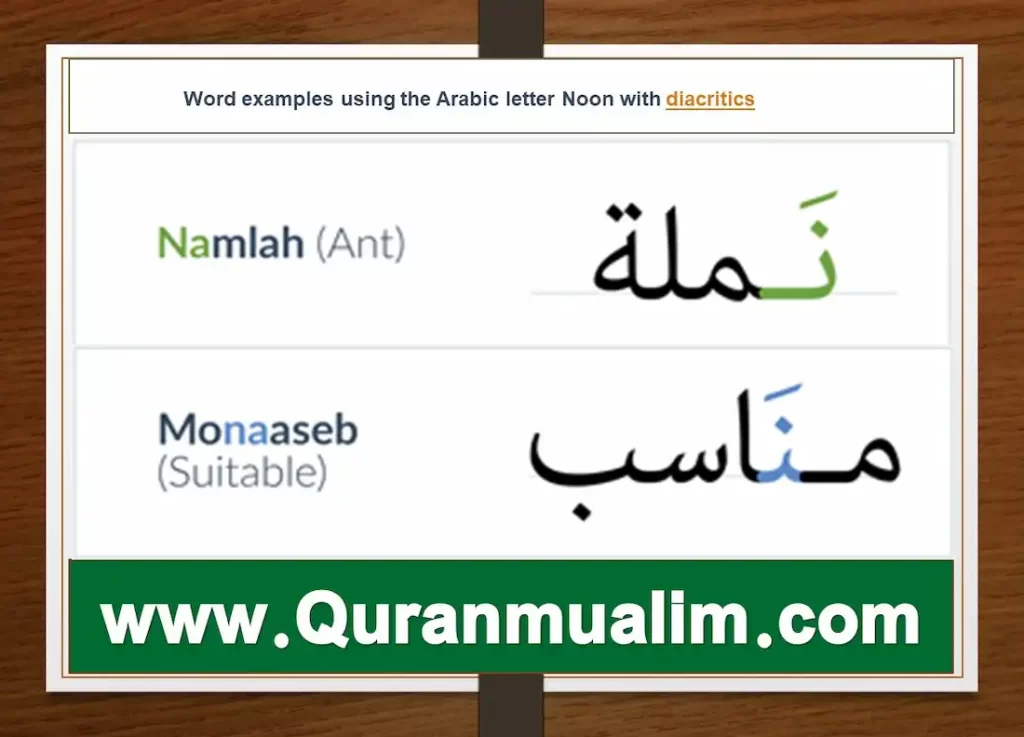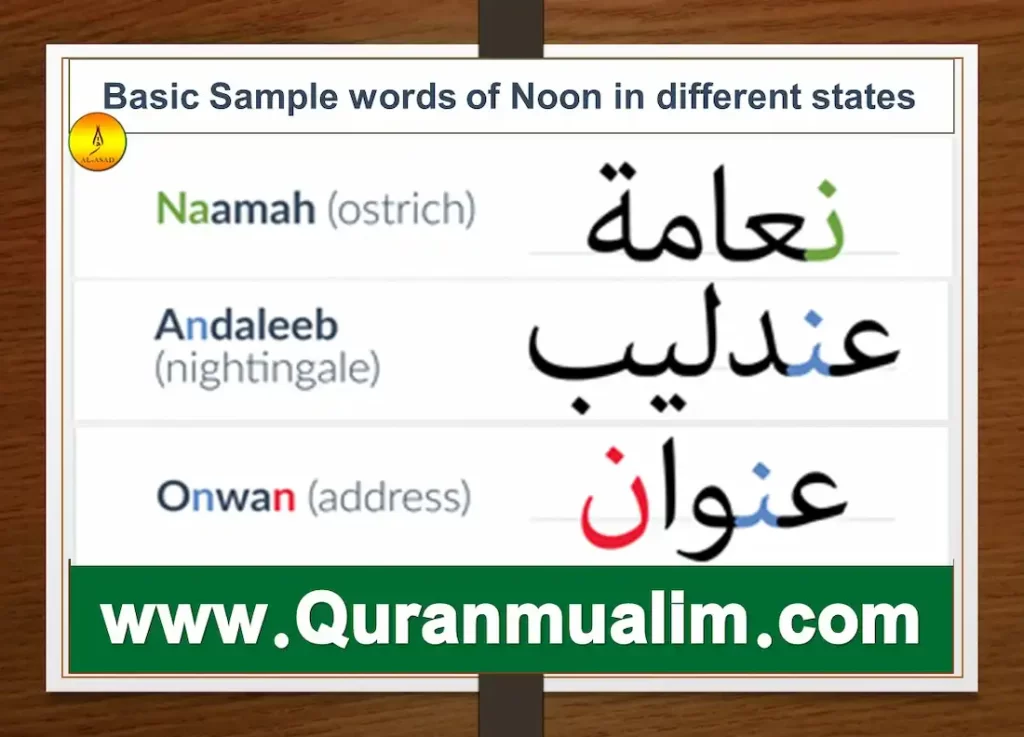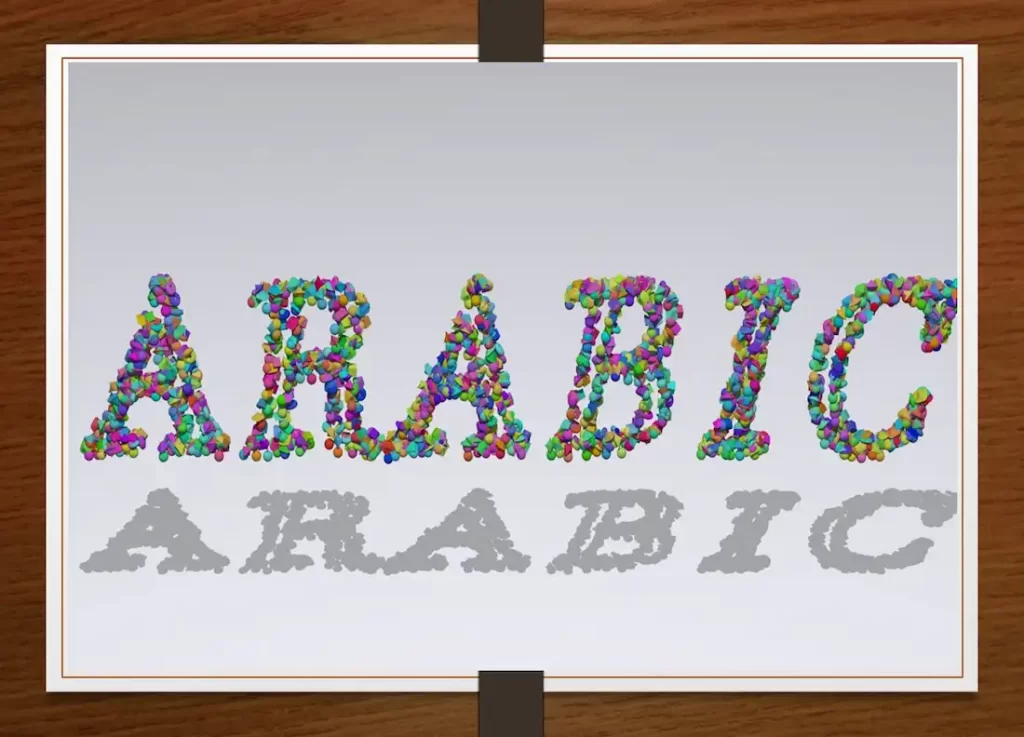 Look-a-likes
The isolated form of Noon ( n ) appears a bit similar to the isolated form of Qaf ( Qaf ). Both are circular in shape.
Its Initial and Medial versions that are Noon ( the word "n" ) ("n ) are similar to versions that belong to the same category Ba ( ba ) ( B ) Ta ( T ) ( T ) and Tha ( th ) ( Tha ( th ).
Mnemonic
ن is a half circle. It resembles the C in the letter C but is rotated clockwise to 90°.
Arabic Alphabet Grammar
Arabic Alphabet letters
Noon Letter
Q-Quranmualim WhatsApp +923017363500