Inspirational Quran Quotes: The Quran is the last scripture that is revealed through the last prophet of Allah Almighty. The whole book of Quran is full of inspirational Quran quotes. Each verse of the Holy Quran has everlasting message for those who understand and who are given the knowledge. The addressees of the holy Quran are not only the Muslims but the entire humanity. Each and every person can get guidance from the teachings of Quran. The message of Quran is eternal and for all the times and for all the ages without any discrimination of caste, creed or color.  Quranic quotes are source of inspiration and motivation in the time of distress.
The best Quran quotes are available in the book named Inspirational Quran Quotes. Be strong with Allah is the glorious example of such beautiful and inspiring quotes from the Quran.  These Quranic quotes are for the guidance and lead for leading the better life not only in the world but also the world hereafter.  These quotes are the good source of guidance for the Muslims as well as for the non Muslims as they contain the universal truths and undeniable facts about the life and the life of the universe.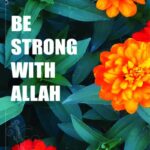 Language
English
Paperback
120 pages
Dimensions
6 x 0.3 x 9 inches
Inspirational quotes from Quran are very useful and valuable addition in the collection of the library books. The people who are interested in leading well balanced and well-planned life on the Earth are advised to read the interesting book titled inspirational Quran Quotes. The study of the book will be helpful in spending day to day life and also to guide others in their life as how to send useful time in the world.
The book has been printed in a very beautiful way keeping in view the significance of the Quran and Quranic verses. Every quote is printed on each left-hand page with beautiful style. The other part of the page is reserved for the explanation of the quote in simple language and manner. The care has been taken that each act of us should have the quote to be followed in our practical life. It is the loveliest way to remember that we should start everything with the words from the quotation of the holy Quran. It is a lovely gift for the Muslims especially in the month of Ramadhan.
The book has enough space to adjust the Arabic words without disturbing the flow of the writing and the quotes.  Hurry up and have a copy of the book as soon as possible and go through this book in the holy month of Ramdhan.
Reader Questions & Answers
Ask the QuranMualim community a question about Inspirational Qur'an Quotes by Ahmed Saafan