Janamaz: The janamaz is the sheet that is used during the worship. A Muslim stands on it to say his prayers at home and in the masjid. The product prayer mat is available in the collection in different qualities and different styles. Following the features of the prayer mat that is available in the store house of the Amazon.com. The janamaz is very useful for offering prayers not only at home also in the masajids. In the present condition of covid.19, the janamaz provides special edge for offering prayer in masjid as they help void the touch with mats or janmaz of other people.
Therefore the risk of catching corona virus is reduced to great extent. The beautiful colors of the janamaz also provide soothing effects for the person standing on it is offering prayer. These janamz are made of special synthetic fibers with wool and cotton thread work.
The prayer mat is the special gift from turkey for the Muslims in offering their salat, the sacred worship of the Muslims. The janamaz is very comfortable and smooth. It is specially prepared for resting the knees and ankles. It gives comfort to the lower part of the body during the long stay and let not disturb you or makes you uneasy during the performing of the sacred rite of prayer. The janmaz is simply made but the proportion is kept while knitting the prayer mat.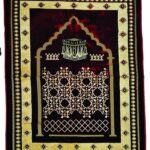 Size
42″ x 27″
Color
Multicolored
Material
Velvet
The janamaz is not stain resistant so care should be taken to keep it away from the blots or other stains 
As for as the size of the prayer mat is concerned, its size is 42″ x 27″. It is a standard size and easy to manage. It can easily be taken anywhere without feeling the burden. It is also fordable in many layers without damaging its quality.
It has multi color variety and is attractive to look at.
It is made of velvet of far superior quality and the velvet is made of fine and lasting fibers. The fibers are synthesized very skillfully which is our trade mark. No compromise on the quality.
The janamaz is made of velvet of fine quality. Due to the use of velvet, soothing effects are felt during the worship. And it keeps you absorbed in the meditation without disturbing the worshipers.
The shape of the janamz is rectangular and is very attractive to present it as a gift for your lover during the special occasion of holy Ramadhan.
It is specially made by Turkey and the Turkish people are very skilled and experts in knitting the prayer mats and other such items.
The janamaz is very luxury and is suitable for all the age groups.
Related Articles
Reader Questions & Answers
Ask the QuranMualim community a question about  Muslim Prayer Mat Janamaz for Salah
Hafiz Abdul Hameed
Master In Islamic Studies
(Tajweed, Waqf)
Web Developer/Administrator
Web Content Writer
Blogger, SEO Expert
Graphic Designer
WhatsApp: +92 3017363500