Muslim prayers Rug: Rugs are used to adorn in the homes by the people in Europe but in the Islamic and the Muslim world, the rug has many uses in their homes and houses. One of the common uses is for offering and saying prayers and worship.  The rug is also known as the prayer mat as it is used for prayer and other worships. These prayer rugs are the best way to stand on them and perform the religious obligations with ease and comfort.
There are many qualities that these prayer rugs would offer to you. The coming of Ramadhan has many good tidings for the Muslims. The Muslim think this month the most sacred month of the year and due regard is given to this month by every Muslim, men and women. The Muslim prayer rug would be great gift for the Muslims for the Ramadhan.     
As for as the design is concerned, it has been woven with different calligraphically designed mats which have very sober colors. These colors would attract you and provide the soothing effects on your heart and mind. The prayer mat is prepared by Turkey, famous for carpet and rug dealing. Another great quality that the prayer rug has to offer is its size and weight. It is light weight and its size is enough to carry it along with anywhere, anytime. The light weight is additional quality that distinguishes it from other Muslim prayer rugs. It can be said that the Muslim prayer rug is of pocket size and therefore, it is easy to handle and mange by everyone.
The Muslim prayer rug is easy to get and easy to spread. The product would be of great value for the Muslims during the coming Ramadhan. Prayer mats are available in different style, size and price. These prayer rugs are available from the simple rugs to the rugs with intricate designs and fibers used to prepare the prayer mat.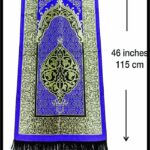 Color
Different
Material
Cotton
Brand
Avanos
The customers would find it very comfortable and soothing. It has another attraction for the buyers are its price which is within the excess of even the people belonging to the low income and salary. Just choose the piece of your choice and place the order without any hesitation and you would feel that it is not a bad deal at all. On the other hand, you would be obliged that such delicate Muslim prayer mat has been offered to you within your resources.
Don't delay. Just open the app and place your order and the prayer mat would be at your door step with the guarantee of quality and without any tension. A big deal for the customers of the product. First come and first get.  
Related Pages for Slah
Reader Questions & Answers
Ask the QuranMualim community a question about  Shop muslim prayers Rug – Islamic Mat for Muslim Prayers
Hafiz Abdul Hameed
Master In Islamic Studies
(Tajweed, Waqf)
Web Developer/Administrator
Web Content Writer
Blogger, SEO Expert
Graphic Designer
WhatsApp: +92 3017363500