Easy Arabic Reader:
Reading the holy Quran without any mistake or error is the dream of every Muslim and this book in hand would surely provide you with the same opportunity. Tajweed rules for reading the Arabic language are necessary to understand for reading the holy Quran smoothly and beautifully. When someone is reading the holy Quran, he should be sure that no mistake or error is made or committed during the recitation of the holy Quran. Such errors and mistakes lead to the wrong meanings and explanation of the different verses and sometimes, they lead to the opposite meanings what is being intended in the correct and true context. The book would definitely help you to read the holy Quran free of basic errors and mistakes.
Arabic reading is not difficult but it is technical subject and can be made easy by using different techniques. The present book makes the Arabic reading easy and smooth. It is the best book for the beginners as well as the adult learners. The book is included among the Bestselling Easy series. This series is distinctive as it has three part structure for leading the beginners to the intermediate level understanding. This book offers Arabic and helps the learners with the support of the recordings of the selected readings which are available online for the facility of those who cannot get the access to the book.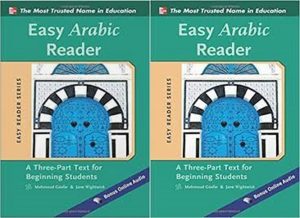 Language
English
Paperback
224 Pages
Kindle
Other Sellers
About the Book: the book is useful for the new learners in learning the basic reading of the Arabic language. It is based on the distinctive technique. This technique provides the best way for building language skill. This skill is helpful in reading the Arabic language and writings. The book is of great value for the learners of the intermediate leveled learners. The book has the qualities of engaging readings of progressive difficulty that permits the students and learner the readers to get the understanding of the readings easily and rapidly.
Another distinctive feature of the book is that it offers comprehension based questions and practices for the learners to get through the reading process quickly and smoothly. The book is basically divided into three parts. Each part begins with the series of the stories about the Arabic American environment. He can do it well as he was in habit of making tour of the Middle East as graduation present.
Features of the Book
Easy Reader series has excellent track record: 140,000+ copies sold of all editions.
No other book on the market offers beginner-level Arabic readings.
Convenient audio format allows listening online.
Growing audience: study of Arabic has grown since 2000, but there are limited materials to progress beyond beginner.
Progression of readings builds language skills gradually
Introduces overview of rich history of Arab world
Audio recordings promote stronger listening and pronunciation skills