Dear Students, Furthermore, the Allama Iqbal Open University was established in Since May 1974. Allama Iqbal Open University has the main and important objectives of providing educational opportunities to the masses (Doorstep education) and to those who cannot leave their beloved homes and jobs, during all these past years, the Allama Iqbal Open University has more than fulfilled all this requirements and basic needs of education.
Download All Allama Iqbal Open University Forms, Admission Forms, Application Forms, Degree Forms, Result Correction Forms, NOC Form, Manual MBA Internship, M.Com Projects, Challan Form, Aaghi Student manual Short, address change application, Application for Exemption & Equivalence, application for Undelivered books, Application for Wrong Dispatch of Books, Application form for Plagiarism check  & Similarity Index_Rev, application for change of books, Center Change, change of course code, change of name form revised, change of registration, Continue Admission Form
Dear Students Allama Iqbal Open University give the opportunities   Overseas Pakistani , Date of Birth form revised, Dental Proforma, Duplicate Degree Form, Employee's Identity Card Performa revised, Exemption & Equivalence Form 2019, Family Members Performae, Fee Adjustment, Fresh Admission Form Overseas, Guidelines Against Sexual Harassment, Internship Manual for M.Com, Leave Performa Drsi Nizami revised, manual, Medical Proforma, NIP Intern Assessment Form  Audio & Video Programs, Education for All AIOU and etc.
Dear Students, Moreover, It has opened up educational opportunities for the working people and has provided access to the females Particularly on their doorsteps. Dear Students, Therefore, It has also done pioneering work in the field of distance Education learning. Although, It is now breaking new grounds in the fields of academic, professional, scientific, rebellious and technical education.
So, It is attempting to reach out to the remotest areas (Hunza velley. Gilgit-Baltistan, Azad Kashmir, Khyber Pakhtunkhwaan and Balochistan) of Pakistan. So that, It is also attempting to modern information Technology for spreading education in Pakistan and overseas Pakistani
Furthermore, Allama Iqbal Open University is such a university of Asia in which there is no age limit to any degree which Allama Iqbal Open University is offering. The Allama Iqbal Open University is following a different and unique pattern and open admissions twice in every year.
Autumn   February/March

Spring    August/September
Dear Students, the spring admissions start from January to March in every year, In addition, the Autumn admission open from August to September in every year. For More the Fix dates of admission, you are advised to check here official site of Allama Iqbal Open University official. Therefore, the admissions dates and extension in due dates are also given.
Dear Students, each semester consists of 20 weeks in which there 2 weeks for the preparation of exams in Academic Year. So that, the first phase admission will commence from Approximately January 15 while the 2nd phase admissions will begin on March 1, 2020 begin of the Year, all over the country.
Conclusion:
Dear Students, I conclude that Allama Iqbal Open University Admissions have different and professional criteria of Admissions. Particularly, the way it offers each course for different ages is the best way of promoting Education in especially in Pakistan and overseas Pakistani. and all over the world. Importantly, the aim of Allama Iqbal Open University Admissions is the promotion of Education all over Pakistan and all over the world especially overseas Pakistani.
How to Contact Allama Iqbal Open University Online:
Helpline: 051-111-112-468
Email Address: adms@aiou.edu.pk
More  information please contact concerned section by email or phone numbers given below; Sr.Section:Email and Phone
Matric adms.ssc@aiou.edu.pk Phone No :051-9057431
Intermediate adms.hssc@aiou.edu.pk Phone No:    051-9057432
Bachelors       adms.ba@aiou.edu.pk Phone No: 051-9057435
(PTC/CT/BEd ,M.ed ) adms.te@aiou.edu.pk PTC/CT 051-9057421, BEd 051-9057760
Post Graduate: adms.pg@aiou.edu.pk Phone No: 051-9057422, 051-9057425
Information Unit: adms.imu@aiou.edu.pk Phone No: 051-9057151
Dear Student, Allama Iqbal Prospectus are available at www.QuranMualim.com, you can also Free download all forms from this website free of cost or You can also visit official site www.aiou.edu.pk.
Dear Brothers and Sisters, More Helpful downloads will be updated with the passage of time Inshallah. Thanks for visiting us. Keep touch and remain active
Dear Students, QuranMualim is a unique educational and Islamic Website. Here if You want to get information about educational, Allama Iqbal Open University, Quran, Quran with Tajweed , Islamic Basic Education then You must be visit our site www.QuranMualim.com daily and use comments Box.
Company Name: QuranMualim.com
Company Slogan: Learn Islam
Mobile Number: +923017363500
Address: Punjab Pakistan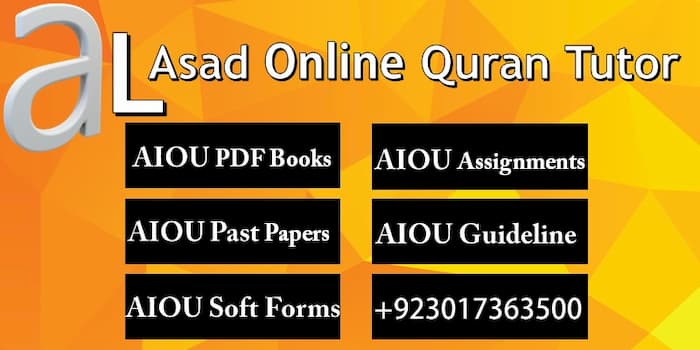 Aaghi Student manual Short PDF
Address Change Application PDF - AIOU
Appeal Against RUMC form - AIOU
Application for change of Books - AIOU
Application for Exemption - AIOU
Application for Undelivered Books
Application for Wrong Dispatch of Books
Application form for Plagiarism check
Center Change -Allama Iqbal Open University
Challan Form -Allama Iqbal Open University
Change of Course Code -Aiou
Change of Name form Revised- AIOU
Change of Registration -AIOU
Continue Admission Form - Overseas AIOU
Date of Birth form Revised- AIOU
Dental Proforma -Allama Iqbal Open University
Duplicate Degree Form -AIOU
Employee's Identity Card Performa-revised
Exemption & Equivalence Form-2019
Family Members Performae -AIOU
Fee Adjustment -Allama Iqbal Open University
FINALIZED DEGREE FORM -AIOU
Fresh Admission Form Overseas
Guidelines Against Sexual Harassment
Internship Manual for M.Com-AIOU
Leave Performa-drs-revised-AIOU
Leave Proforma (For Regions)
Leave Proforma for all employees
Manual for M.com internship_Revised
Manual -Allama Iqbal Open University
Medical Proforma -Allama Iqbal Open University
MS Phill Student File checklist
Msc Internship Application form-1 AIOU
Msc Internship Evaluation Cert-1 AIOU
Msc Internship Mannual-1 AIOU
NIP Intern Assessment Form AIOU
Noc form New -Allama Iqbal Open University
performa umrah scheme deduction-Revised
PhD Student File checklist AIOU
Picture Form -Allama Iqbal Open University
Project Guideline for M. Com
PROLONGED MEDICAL TREATMENT
Prospectus B Ed Autumn 2020 AIOU
Prospectus BA Autumn 2020 AIOU
Prospectus Matric FA Autumn 2020
Reapear New Revised AIOU PDF
Rechecking Form -Allama Iqbal Open University
Refund of Fee -Allama Iqbal Open University
Requisition for Sending Mail AIOU PDF
Research Grant 2020-21 AIOU PDF
Research publications award 2020-21
Result Revision form AIOU PDF
Undertaken pdf -Allama Iqbal Open University
Varification -Allama Iqbal Open University
Hafiz Abdul Hameed
Master In Islamic Studies
(Tajweed, Waqf)
Web Developer/Administrator
Web Content Writer
Blogger, SEO Expert
Graphic Designer
WhatsApp: +92 3017363500