Dear Students in this article we will learn and download about AIOU Matric Dars-e-Nizami Sanvia Aama PDF Download Matric Dars-e-Nizami is a 2 years course/program in Allama Iqbal Open University (AIOU). Allama Iqbal Open University (AIOU) is providing it in distance learning to students at door steps. Here are the Matric Dars-e-Nizami books with their respective code numbers are listed below. All Academic courses Matric,Fa all academic books, BA, B.ed and master levels of all PDF Books are available to the students. The code numbers are given to easily with detail and efficiently explore to all Levels. Just click the download Button of any book to get AIOU Matric Dars-e-Nizami Sanvia Aama PDF Download.
The whole program (Hifz ul Quran, Qirat ul Quran, Quran with Tajweed, Quran with Tafseer, Nazra and Darse Nizami) in the madrassas systems takes place over the course of sixteen years. Tanzeem Ul Madaris has set up Darse Nizami exams in six stages as Mutawasta, Ama, Khasa, Aliya, Aalmiya, and Thakhasus.
There are five benchmarks within the system:
Middle School Certificate: Eight years of study only programs
Shahadat ul Sanvia Aama (Matric): Two years programs of study only
ShahadatulSanviaKhasa (FA): Two years programs of study only
Shahadatul Alia (BA): Two years programs of study only
Shahadatul Almiya (MA): Two years programs of study only
Dear Students, While the Shahadatul Sanvia Aama is equall to Matric (SSC) and the Shahadatul Sanvia Khasa (FA) may be respectively equivalent to the completion of Class ten education and the completion of Class 12, in both cases, the credentials awarded by the madrassas are not considered equivalent unless accompanied by the national compulsory subject examinations are taken through the appropriate national or regional examination board (Sahiwal Board, Lahore Board, Multan Board, Rawalpindi Board Faisalabad Board, Bahawalpur Board and so on).
Likewise, the Shahadatul Alia (BA) and the Shahadatul Almiya (MA): are not considered equivalent to tertiary academic credentials of a similar length of study without additional qualifying elements. The Shahadatul Alia is not equivalent to a bachelor pass and the sixteen-year credential (Shahadatul Almiya) (MA) only qualifies one for employment as a teacher in Arabic (AT) or Islamic studies. The Shahadatul Almiya (MA): may be considered equivalent to an academic credential for the purposes of employment only if they have qualified with "two additional elective subjects other than Arabic and Islamic studies elective" at the BA pass level. As this criterion must be completed at an institution recognized by the Higher Education Commission (HEC) of Pakistan, there will be necessary accompanying documentation from such an institution.
Subscribe now for unlimited access. Click Here.
Here are the subjects being taught/offered n Matric Darse Nizami course.
Programs Available in SSC
How can I apply for AIOU Matric/Dars-E-Nizami) program?
Dear Students, you can apply for the AIOU SSC program online. Just fill your admission form online and submit your fee for admission which we have described below.
Online admission form for Allama Iqbal Open University (AIOU) can be found here this link, AIOU Admission Apply. Fill out the form and follow the on-screen AIOU instruction to successfully submit your admission for SSC Matric Darse Nizami course.
Dear Students, you can check complete details of fee information and calculate your own fee from the Official AIOU (Allama Iqbal Open University) Fee Calculator. Here is the link of AIOU Fee Calculator
Fee Structure of AIOU Matric Darse-E-Nazami Group
| Registration fee | Rs. 100/- (on first time enrollment) Only |
| --- | --- |
| Admission Fee | Rs. 300/- (at the time of admission) Only |
| Technology Fee | Rs. 100/- (Per Semester) Only |
| Course Fee | Rs. 130/- (Half credit course) Only |
| First Semester Fee | Rs. 800/- Only |
| Second Semester Fee | Rs. 525/- Only |
| Third Semester Fee | Rs. 525/- Only |
| Fourth Semester Fee | Rs. 625/- Only |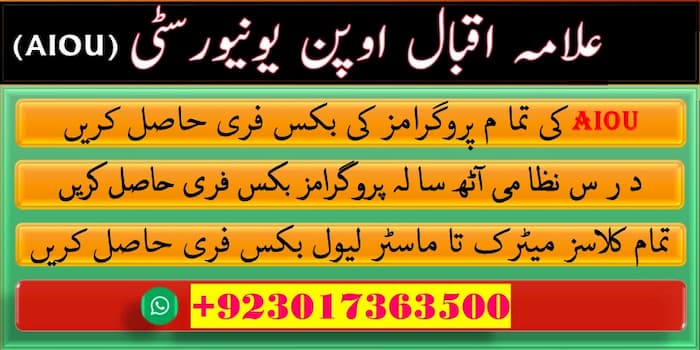 Subjects in Matric Dars-e-Nizami
| Sr No | Course Title Name | Course Code No |
| --- | --- | --- |
| 1 | General Science | 203 |
| 2 | Urdu for Daily Use | 204 |
| 3 | Compulsory English-I | 207 |
| 4 | Compulsory Sindhi | 213 |
| 5 | Functional English II | 221 |
| 6 | Quran-e-Hakeem | 240 |
| 7 | Islamic Fiqh | 241 |
| 8 | Seerat-un-Nabi (S.A.W) | 242 |
| 9 | Arabic | 246 |
| 10 | Mathematics-I | 247 |
| 11 | Mathematics-II | 248 |
| 12 | Pakistan Studies | 202 |
AIOU Company Address: Directorate of Regional Services, Overseas Section, Block No 25, Allama Iqbal Open University (AIOU), Sector H-8, Islamabad, Pakistan. Telephone: 051-111-112-468 Official AIOU Official Website: Allama Iqbal Open University
Frequently Asked Questions (FAQ)
Dear Students, you can easily ask your questions, Quires, Information mentioned in the comments box below. Our team will try their best to promptly best help you and will answer your questions as soon as possible. Inshaallah
NOTE: Please Click on these Course code 241 Islamic Fiqa and 240 Quran HAKEEM. Thanks
0202-AIOU Matric Dars-e-Nizami Sanvia Aama
0203-AIOU Matric Dars-e-Nizami Sanvia Aama
0204-AIOU Matric Dars-e-Nizami Sanvia Aama
0207-AIOU Matric Dars-e-Nizami Sanvia Aama
0221-AIOU Matric Dars-e-Nizami Sanvia Aama
0242-AIOU Matric Dars-e-Nizami Sanvia Aama
0246-AIOU Matric Dars-e-Nizami Sanvia Aama
0247-AIOU Matric Dars-e-Nizami Sanvia Aama
0248-AIOU Matric Dars-e-Nizami Sanvia Aama
About CEO Al-Asad Online
Hafiz Abdul Hameed
Master In Islamic Studies
(Tajweed, Waqf)
Web Developer/Administrator
Web Content Writer
Blogger, SEO Expert
Graphic Designer
WhatsApp: +92 3017363500