Punjab Curriculum and Text book Board keeps the object to make national development by stander SNC textbooks, fulfill the need of the students and teachers, There are following certain standers steps for launching a Class Nursery Punjab Textbooks Fully awareness of the  curricular and subject pedagogy. Keeping in various the key  concepts. Chapter  vise elaboration. Use of pre  testing. Making   final   Draft. Following topics are also discussed here:
Numeracy workout BODMAS, Path Math manning Open text book network, Text book solution, Free text book site, ,Math studies Text books, Apa text book ,Free  text book website, Text book exchange ,Text book company. Text book stories near me, Arabic Short Stories, Reveal text book, Online text book, My open math, Math day, Mathematics day, Open math, Math city, Arithmetic
Primer  English:
In Class Nursery Punjab Textbooks Primer English 1 four terms have been introduced. In the first term concept of Alphabets including capital letters and  small letters. In the second terms, Uppercase, Lowercase and Nursery Rhymes are included. In the 3rd term completed detail about writing and vocabulary is given.
Class Nursery Primer Math:
Here, Three terms are also introduces. In first terms is comprised of the concept of large and small, counting from 1-20 and introduction of shapes. In 3rd term is consisted of the concept of long and short and the numbers and revision of the exercise.
Class Nursery Primer Urdu:
In Class Nursery Punjab Textbooks Primer urdu there are three Quarters. Ist quarter is comprised on the concept of Haroof-e- Tahajji and Alif to Gaaf. The 2nd quarter comprises on the concept of the laam to Teeh. Half shapes of concept Haroof-e- Tahajji and their initial shapes. The 3rd quarter is comprised on pay concept and the poem Munnay ki Amman.
Class Nursery  Neela Qaida:
Flowing topics are include in the Neela Qaida: Students are introduced with the Haroof-e-Tahhajji (Arabic Alphabets Letters) along with their shapes and facility to write with the lead pencil in the Urdu Qaida.
After this complete Haroof-e-Tahajji is written.
After this completion of words with the help of Joor Torr is done.
After this the concept of Zair, Zabar and Paish has been given Below.
At the end exercise has been made by making the complete sentences portion of English and concept of ABC and their shapes are also given. Syllabus Books:
Primer-i English:
Primer-ii Math Urdu medium
Primer-iii Urdu
Neela Qaida (SRM)
Corners
Quran Corner
Suggested Read: wbw quran, houseofquran, all surah in quran, quran list of surahs, how many chapters are in the quran, quran with urdu translation pdf, the chapters of the qur an, surah fatiha english translation pdf
Math Corner
Suggested Read: algebra functions and data analysis, math kangaroo past papers, basic geometry worksheets pdf, algebra 2 formula sheet pdf, geometry formulas pdf, algebra 2 cheat sheet pdf
Fiqah Corner
dua for stress and anxiety, sufism definitie, can i divorce my wife for not sleeping with me, islamic healing prayer, muslim story of creation, are ephemeral tattoos haram
Arabic Corner
Suggested Read: arabic books for beginners free, learn quranic arabic free, quran tutor online for free, islamic healing prayer, how many rakats in each prayer, ayat kursi in english , dates in arabic
Best Places
These are our latest publication please visit it Thanks.
Punjab Curriculum and Textbook Board Year 2023 Free Download
Tajwedi Qaida PCTB Free PDF Download
Qaida Primer PCTB Free PDF Download
Urdu Primer PCTB Free PDF Download
English Primer PCTB Free PDF Download
Punjab Curriculum and Textbook Board Year 2021 – 2022 Free Download
Primer-i English: PDF (Quranmualim)

Primer-ii Math Urdu Medium PDF (Quranmualim)
Primer-iii Urdu PDF(Quranmualim)
Neela Qaida (SRM) PDF(Quranmualim)
Urdu ka Asan Qaida PDF(Quranmualim)
Phool Urdu Qaida
40 Best Urdu Qaida Part-1 PDF(Quranmualim)
40 Best Urdu Qaida Part-2 PDF(Quranmualim)
Urdu jor Tor PDF(Quranmualim)
Child Abuse booklet PDF(Quranmualim)
Health in Your Hands PDF(Quranmualim)
Meena book birth registration PDF(Quranmualim)
we love books final PDF(Quranmualim)
Urdu workbook-1 PDF(Quranmualim)
Urdu workbook-2 PDF(Quranmualim)
Urdu workbook-3 PDF(Quranmualim)
Nursery Question paper English-1. 2020
Nursery Question paper English-2. 2020
Nursery Question paper English-3. 2020
Nursery Question paper Math-1. 2020
Nursery Question paper Math-2. 2020
Assessment Paper (Quranmualim)
100 fruits and veggies PDF(Quranmualim)
Summer Vacation Homework PDF(Quranmualim)
Academic calendar PDF(Quranmualim)
Marks Sheet (Quranmualim)
Conversation Nursery
Annual Result Card
Register Cover

Download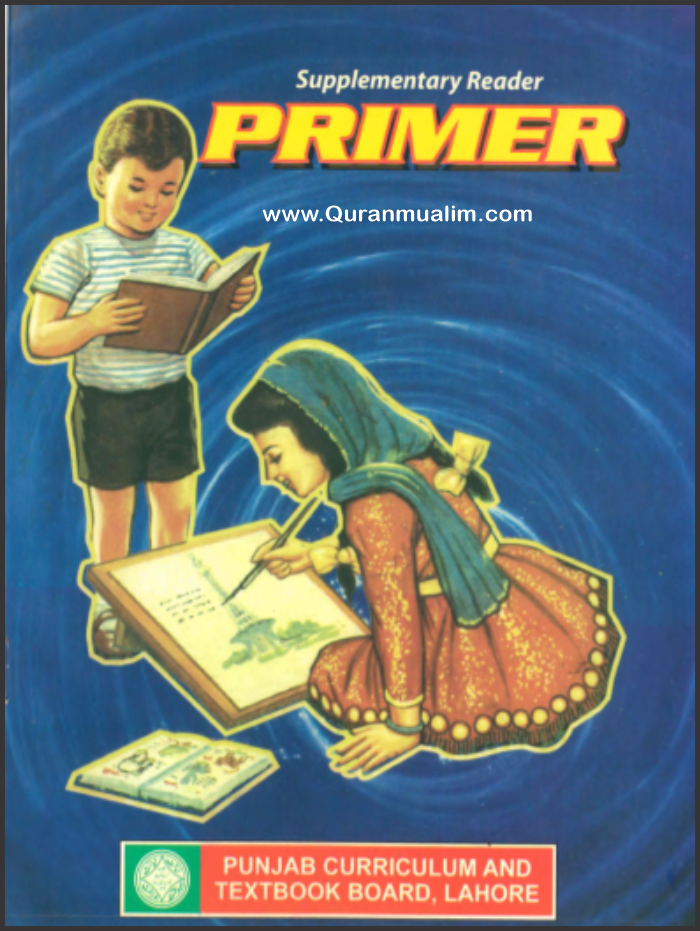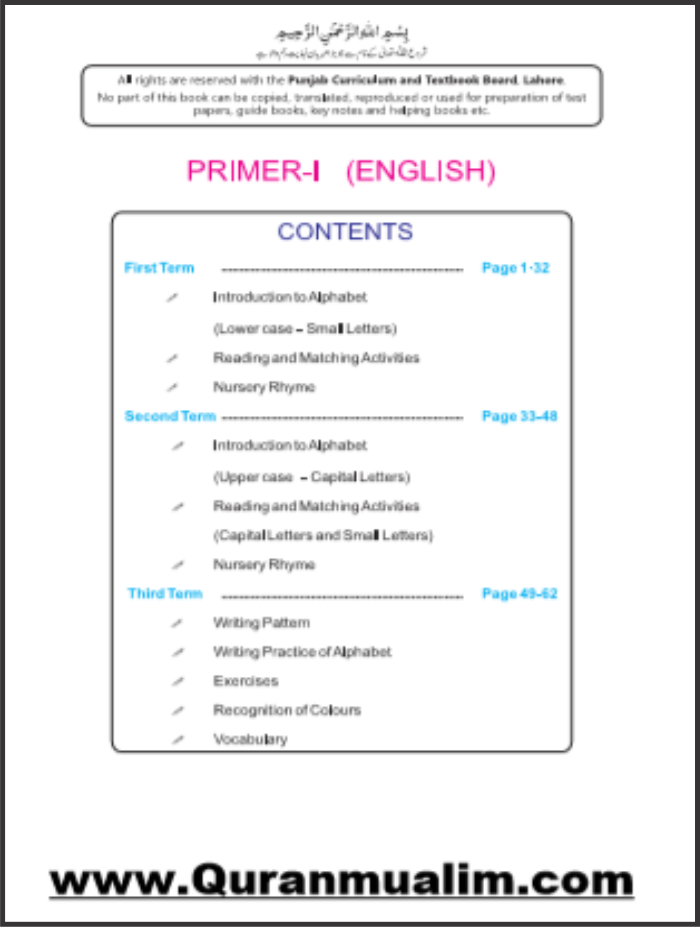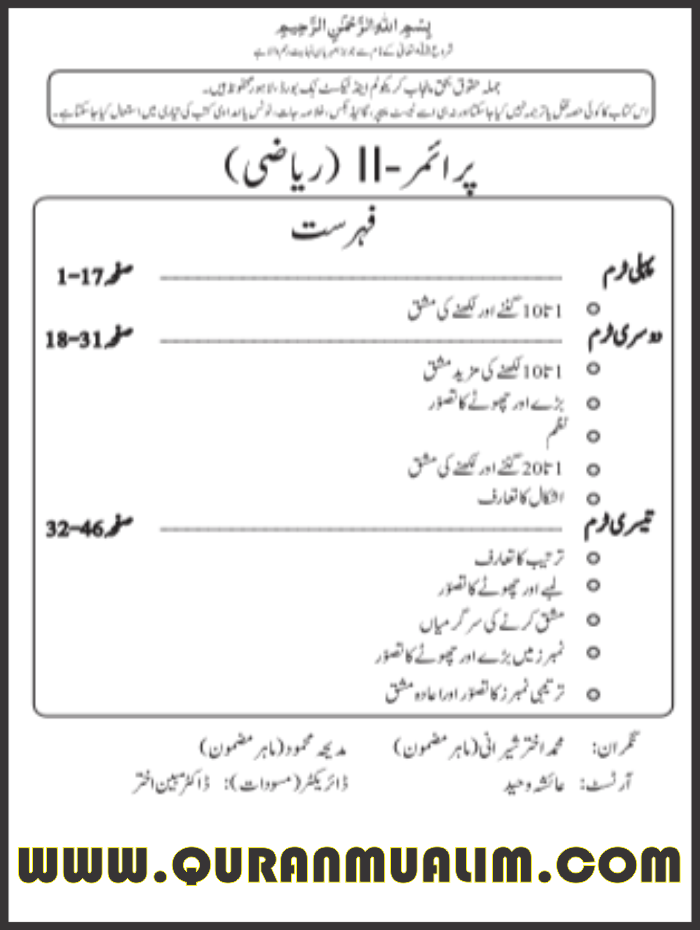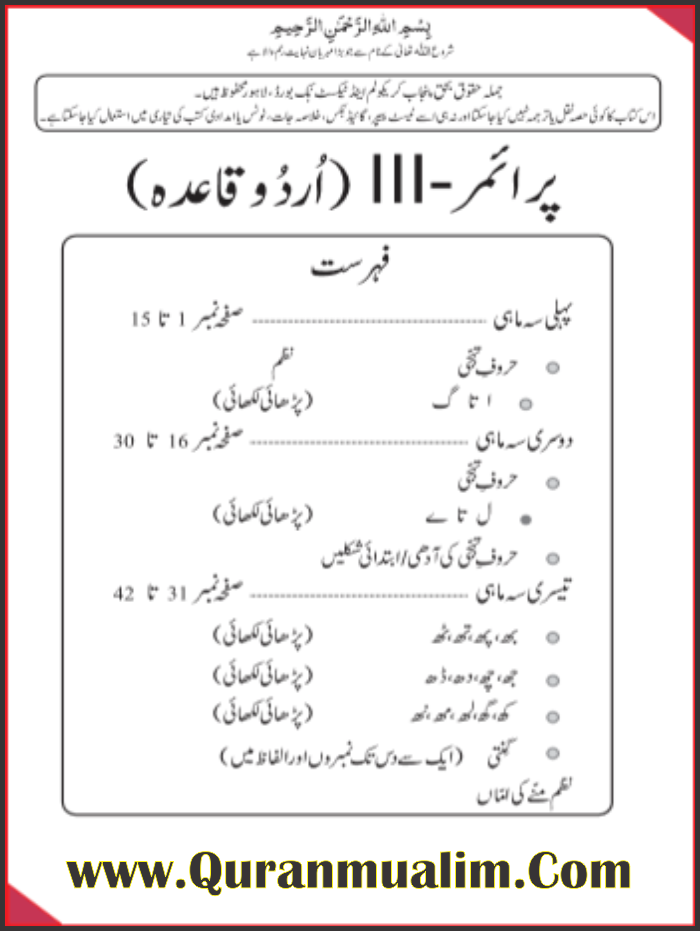 https://youtu.be/kCHeKc2R96o
About CEO Al-Asad Online
Hafiz Abdul Hameed
Master In Islamic Studies
(Tajweed, Waqf)
Web Developer/Administrator
Web Content Writer
Blogger, SEO Expert
Graphic Designer
WhatsApp: +92 301736500