There is an Arabic Sheen letter ش is an Sun Sheen letter. It is the same basic shape as Seen but it is adorned with three dots on top of it.
We would like to welcome you to our website. Here's a new Game of the Day, "STOP THE BUS." This is a game that can aid our children and beginning learners of Arabic to master Arabic. We will now look at how to play the Arabic letters Sheen. ش and the Word Alphabet Game
Discover how to spell the Arabic ش using the words
words that begin with ش
Completely stop the game. Arabic games with letters
Stop-it's complete is one of my favorite games that I really enjoy playing with my students. The greatest thing about the game is it's totally adaptable to all levels of child and is a fantastic opportunity to test their knowledge.
Suggested Read:  The Silk Roads , History of the World, World War I, The Islamic World by Ladan Akbarnia, Nahj al-Balagha, Lost Islamic History, Stranger The History, Realizing Islam, Prophet Muhammad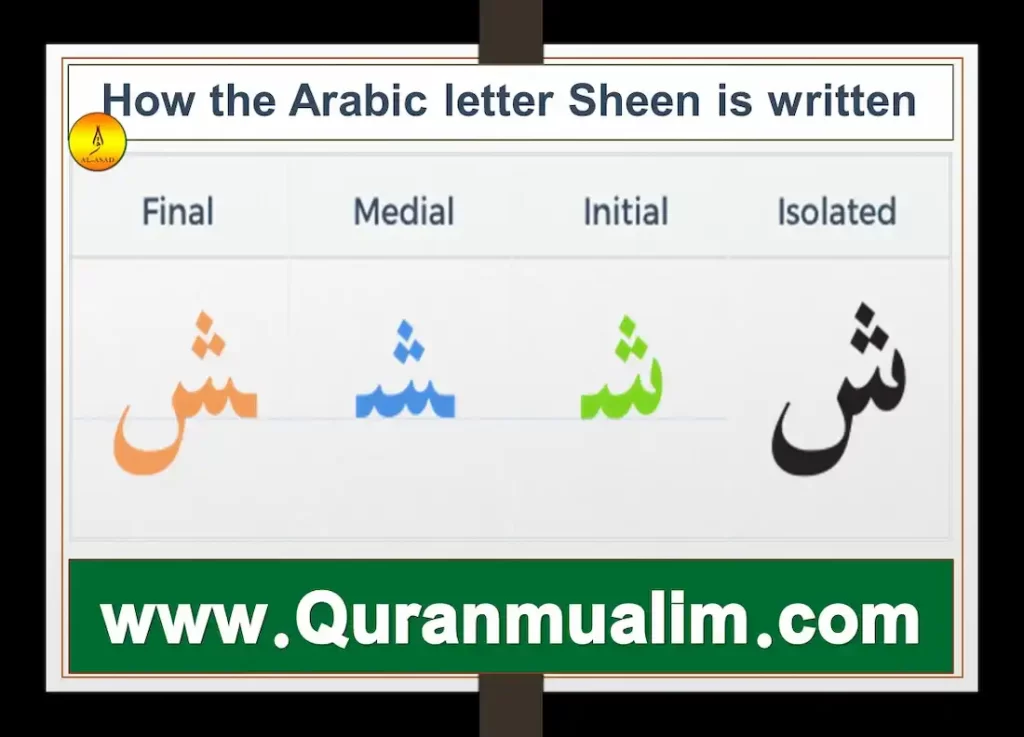 Arabic Alphabet Story of Letter ش
Moving on to our thirteenth letter of the Arabic alphabet ش, we will look at various words and phrases beginning with ش along with more culture/language-related facts.
Let's review the fundamental types of letters. ش
What is it? Arabic Sheen letter written ش appears . What is Arabic Sheen letter? ش can be made to sound
ش is a symbol of Sheen is Sheen is English sound SH, which can be described as the English sound of "Shell" which has an unvoiced sound made by pushing air through an extensive groove that runs through center of your tongue's front and tooth's back groove. Its edges on the tongue's blade may meet with the teeth on the sides. The lips stay somewhat tight and could protrude slightly while making the sound.
Basis Words from the Example Words from ش in different states
ش can be joined to both sides. It has three possible forms depending on the location in words:
Word examples using The Arabic Sheen Sheen employing the diacritics of diacritics
ش is thought to sound soft when it is coupled with fatha. However, a lot of MSA speakers pronounce Sheen in specific words that have a difficult sound.
The sheen is further enhanced by a fatha, the sound of a soft squeak that reminds us of:
Sha in Shadow
Sheen in Condition
It could even be an intense tone like Sha as well as Shaft from Shark in Shark Shaft
Sheen and the sound of a kasra:
Shi in Ship
ssio in Mission
Sheen and damma Sound like:
Sho in Shoe or Shop
Chu in Bro Chure
Sheen with sokoon sound like:
Sh in the Mu shroom
Sha ca sh or Fi sh
Suggested Read:  The Afghanistan File , Islam in Saudi Arabia, Top Seller: Islamic Art by Luca Mozzati, Jewish Morocco, Kingdoms of Faith and Islamic History For Kids: Story of Uhud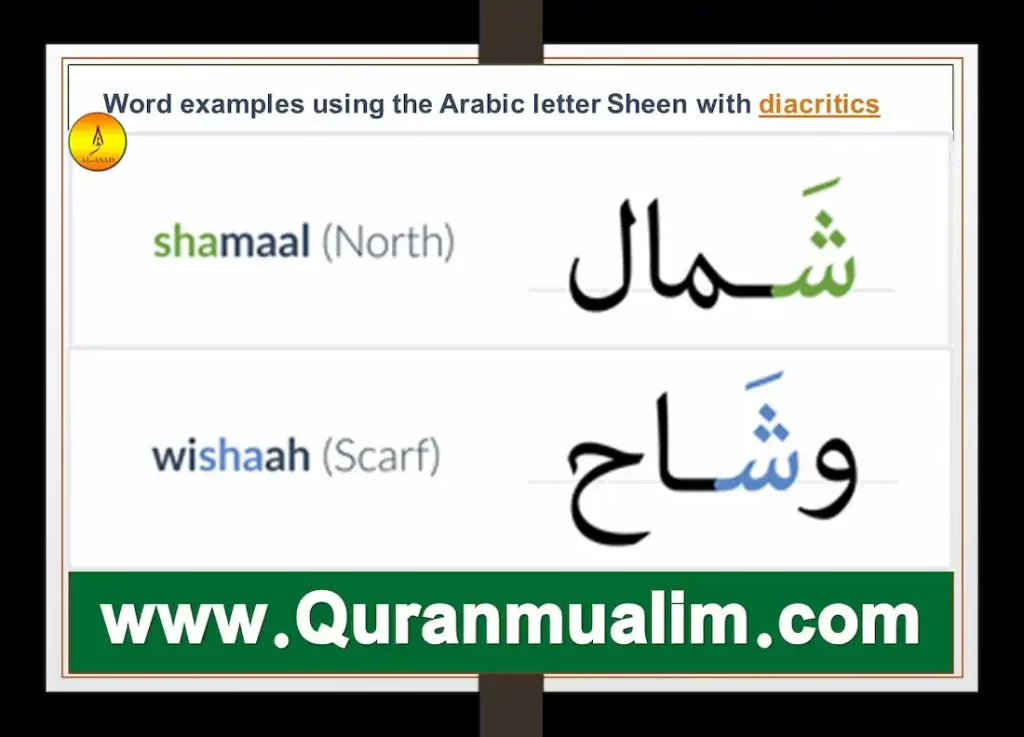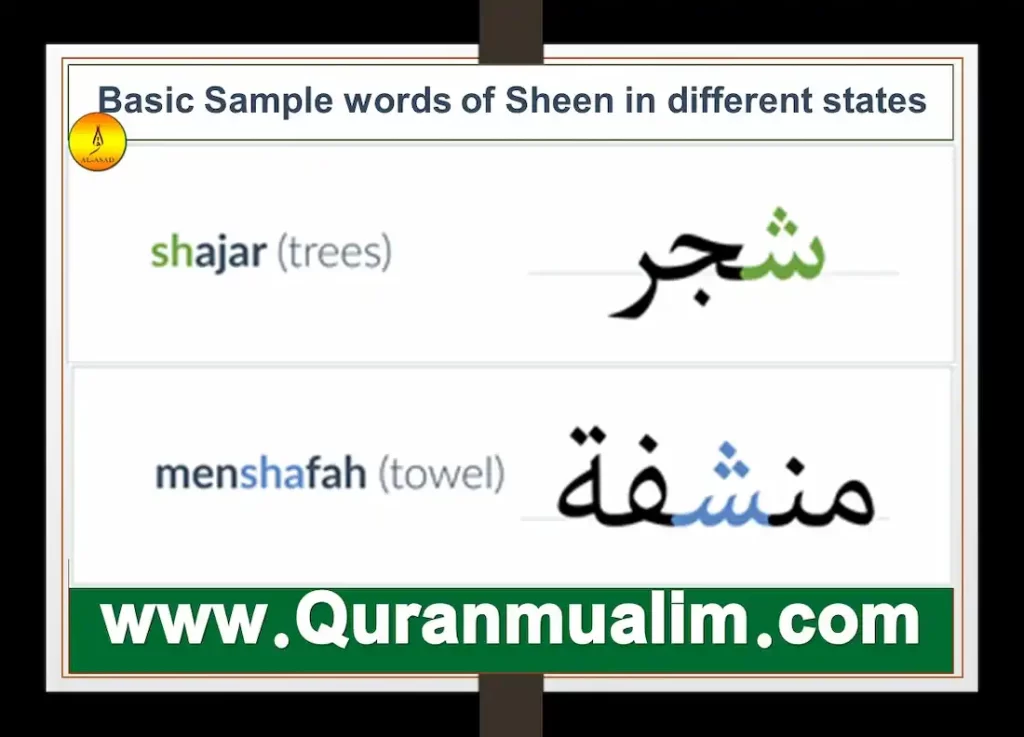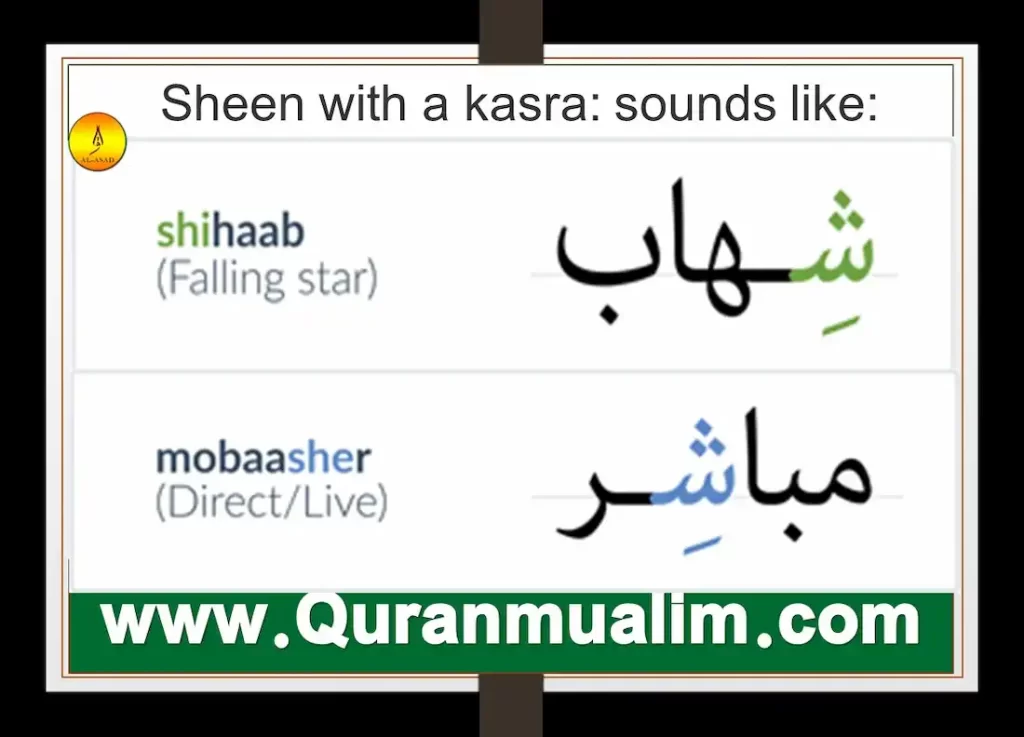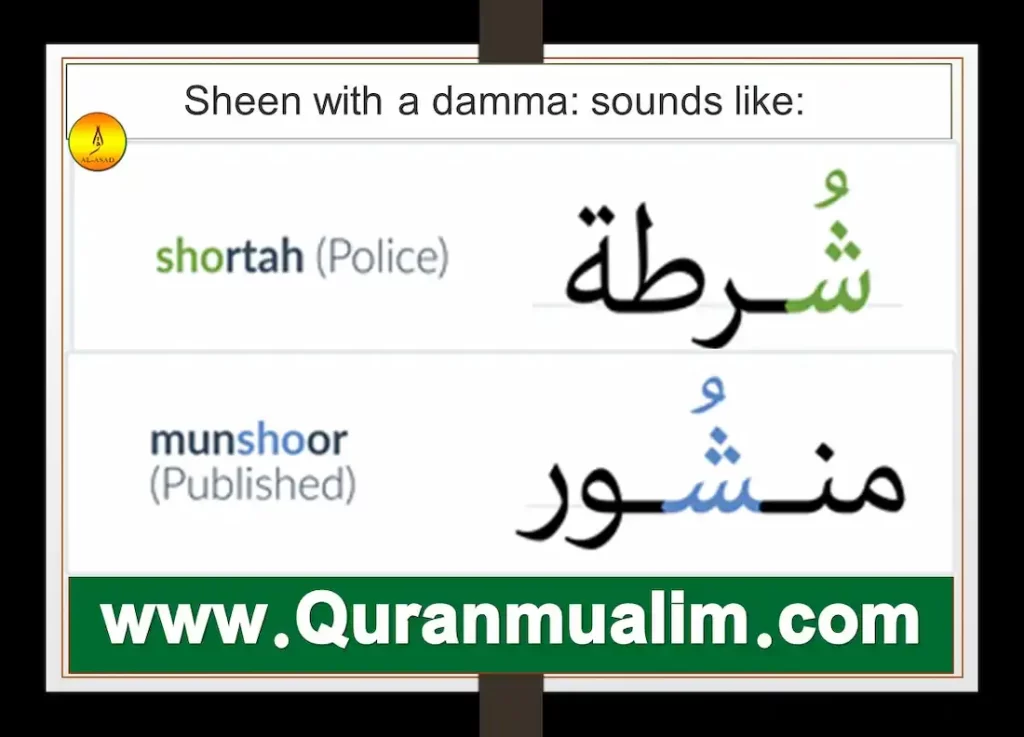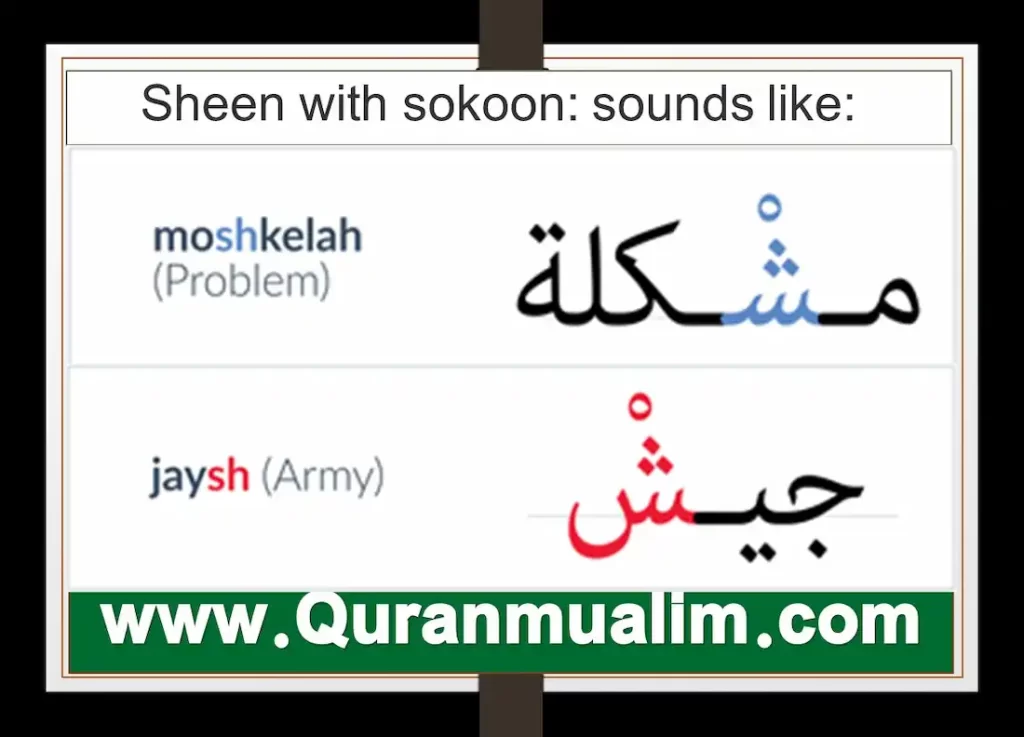 Look-a-likes
Seen and Sheen share a match in shape. And they look similar to their letters Saad and Daad
Mnemonic
The first model of Seen seems to have the form of an ordinary toothbrush. And the original form of Sheen is believed to be the form of a toothbrush. It's toothpaste!
"The word"bristooth" is an allusion to Arabic" (forrshaat assnaan) and it contains both letters.
Arabic Alphabet Grammar
Articulation Points of the letters
sheen Alphabet