Introduction Surah Al-Anfal
Dear Brothers and Sisters, we will learn and Free Download about Surah Al-Anfal, Translations, Benefits, Tafseer, PDF. Surah Al-Anfal Read & listen the complete Arabic text of Surah Anfal in Para / Juz no 9 – 10 . Surah Al-Anfal number of verses (ayats) 75, you can also browse the Surah Al-Anfal by each Ayat for more clarity.
By clicking on pdf   Al-Anfal Tafseer you can access the free download  Al-Anfal tafseer of whole Al-Anfal. You can also read translation, Free Download , Chapter 1 , Chapter 2, Chapter 3, Chapter 4, Chapter 5, Chapter 6, Chapter 7 , Chapter 8  in the respective languages i.e., English, Urdu, Hindi, Russian, Italian, Portuguese.
Surah Al-Anfal Action Plan
This Surah Al-Anfal or The Spoils of War, was revealed after Sūrah 2, The Cow, shortly after the Battle of Badr which took place in Ramađān Mubarak, in the second year of the Islamic calendar or Hijri Calendar, approximately 19 months after the Prophet's migration to Madinah.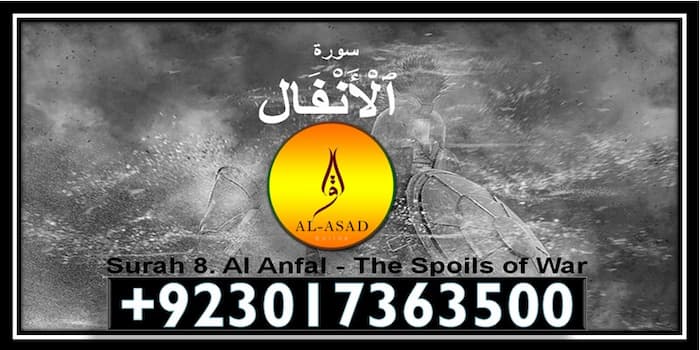 Subscribe now Surah Al-Anfal Action Plan, . Click Here.
This Surah Al-Anfal takes up the Battle of Badr as its subject matter. This conflict, its plight, results and impacts on human background constitute a significant landmark in the improvement of the Muslim movement.
Have true certainty (Yakin) at the Aid of Allah Almighty
Before arrival to the battle, Allah Almighty sent down the rain to soften the ground over which the Prophet Muhammad (peace be upon him) and his army traveled, making them and the animals more sure-footed, whilst the Meccans had parts of their trail washed away and in mud making it difficult for them. Remember that Allah Almighty (Subhanahu Wa Ta'ala) always opens a pathway for success when we place our full conviction and have firm faith in Him (Subahanahu Wa Ta'la).
2.Reliance (Tawakkul) in Allah: Make No Excuses
This battle is where the early Muslims learned the lesson of the power of total reliance on Allah Almighty (Subhanahu Wa Ta'ala). And It's the place where Allah guides the new Muslim community — teaching them the Means of reliance Him. Allah Almighty sent the angels from the unseen world to give firmness to the believers and fulfill His Command. This was a fulfillment of Allah's Almighty promise to send tranquility upon those who have firm faith: "When He caused calm to fall on you as a security from Him." (8:11)
3.Third Action Plan: Success is from Allah
Amongst the signs of tawakkul in Allah Almighty from the companions, was their complete trust that they could conquer the large army despite the ratio difference. It is from the grounds of the battlefield we often find many verses revealed in the Noble Qur'an of the spiritual and physical strength that was required.
The success of the Muslims is only by Allah Almighty, so we should remember we are not productive because of our own efforts.Allah (Subahanahu Wa Ta'la) revealed after the Conflict:"It's not One who Conquered them; it was Allah. If You Snapped (a handful of dust), it Wasn't the act, but Allah's, so He might test the Believers by a gracious trial from Himself; for Allah is He Who Hears and Knows (Everything)" [8:17] Likewise, the battle of the spirit to grow itself is enduring this month so that you might reap many benefits, however you need to seek out success from Allah (Subahanahu Wa Ta'la).
You are never alone
The Prophet (peace be upon him) understood he and his Companions (May Allah be happy with them) weren't alone in this conflict. The Qur'an disclosed that Angels combined the battle to assist the Muslims. Let us ask ourselves, how do we almost bring such help from Allah in our day-to-day life? This is the place where the internal jihad that happens in serving Allah (Subahanahu Wa Ta'la) comes in to play. We're taught that we have to open our spirit together with firm beliefs in Allah and direct our entire body and activities to great deeds so as to get help from Allah and then turn away from the joys of Shaytan.
United as brothers
Nowadays, Muslims worldwide are split however that the battle of badr supported the fruits of being combined as a brotherhood. They solidified their traces, and became just like an immovable wall. The Quraysh were inwardly filled with dread and the assurance that was there since they set out from Mecca was washed from these as they fulfilled with the well-disciplined Muslim army. Even Shaytan fled the scene from the overpowering religious existence and Help of Allah that culminated on the combined Muslims. Allah (Subahanahu Wa Ta'la) said:"When Satan made their deeds seem fair to them and said'No-one of mankind can conquer you this afternoon, since I'm your defender'. I am guiltless of you. Lo! Lo! And Allah is severe in punishment." (8:48)
 Don't be defeated
One of the greatest lessons of Badr, is that we should not feel defeated this Ramadan. We should not feel defeated; by committing up to snuff, or making excuses, or failing to execute utmost to serve Allah. And we shouldn't feel defeated collectively, as an Ummah, no matter our scenario, for the achievement of Allah is nearby.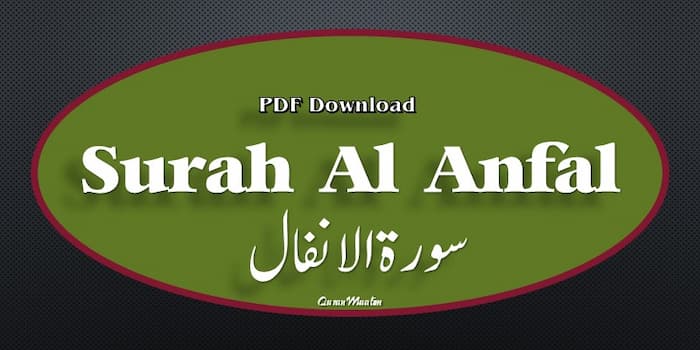 Al Corao Sura 8 Anfal -o-Arrependimento Portugues
Arabi Chapter 8 Free PDf Download
Coran Sourate-8 Al-Anfal la vache Francais Traduction
El Sagrado Coran Espanol Sentido Sura- 8 Al Anfal PDF
Para 08 in Hindi Language Free PDF
Quran Chinese Translation Surah 8 Al Anfal PDF
Quran juz-8 Al Anfal -Sayaqul Para sipara English-PDF
Quran Russian Translation Surah-8 Al Anfal
Quran Surah 8 Al Anfal -Bangla Translation
Quran Surah-8 Al Anfal Bahasa Indonesia
Surah-Al Anfal in Persian Free PDF Download
Tafseer Ibn Kaseer English Free PDF Download
Tafseer Ibn Kaseer Arabic Free PDF Download
Quran Surat-8 Al Anfal Swahili kiswahili Translation
About CEO Al-Asad Online
Hafiz Abdul Hameed
Master In Islamic Studies
(Tajweed, Waqf)
Web Developer/Administrator
Web Content Writer
Blogger, SEO Expert
Graphic Designer
WhatsApp: +92 3017363500