Hijri calendar Uhud occur
The Quraysh reached near Madinah on Wednesday and camped on the Mount Uhud. The Prophet (PBUH) came out of the city on Friday after the Friday Prayer (Salatul Jum'a) with 1,000 Companions. 'Abdullah bin Ubay had joined him with 300 soldiers, but he backed out with his men on the pretext that his proposal for fighting by staying in Madinah was not accepted. Now there remained only 700 Companions with the Prophet (PBUH), ( Zadul Ma'ad, 3: 194, Seerat Ibn Hisham, 2: 64.) out of which 100 were armor-clad. After coming out of the city, the Prophet (PBUH) took a look at the army. Those who were too young to participate in a battle were asked to return. Hazrat Zayd bin Thabit, Baraa` bin 'Aazib, Abu Sa'eed Khudri, 'Abdullah bin 'Umar, and 'Uraba Owaysi were among them. But their zeal for fighting for Islam was so intense that one of them, Raaf'e bin Khadeej stood on his toes to look tall. He was taken in. Samura, a boy of Raaf'e's age, then pleaded that he was stronger than Raaf'e, and so if Raaf'e was taken in, he should also be permitted to join the army. The two boys had a duel in which Samura defeated Raaf'e and thus he obtained the permission to fight for the protection of Islam. (Tareekhe Tabri, 3:61, Seerat Ibn Katheer, 3:30, Seerat Ibn Hisham, 2:66.)
     The Prophet (pbuh) arranged the lines of the Companions in such a way that the Mount Uhud was at their back. Mus'ab bin 'Umayr was given the flag. Zubayr bin Al-'Awwam was appointed as the commander. Hazrat Hamza was given the command of the soldiers who were not armor-clad. (Tareekhe Tabri, 3: 61-62.) A troop of fifty archers was deputed to guard the army against any attack from behind. They were instructed not to leave their post even if Muslims won the battle. 'Abdullah bin Jubayr was their commander. (Sahih Al-Bukhari, Kitabul Maghazi, Bab Ghazwae Uhud.)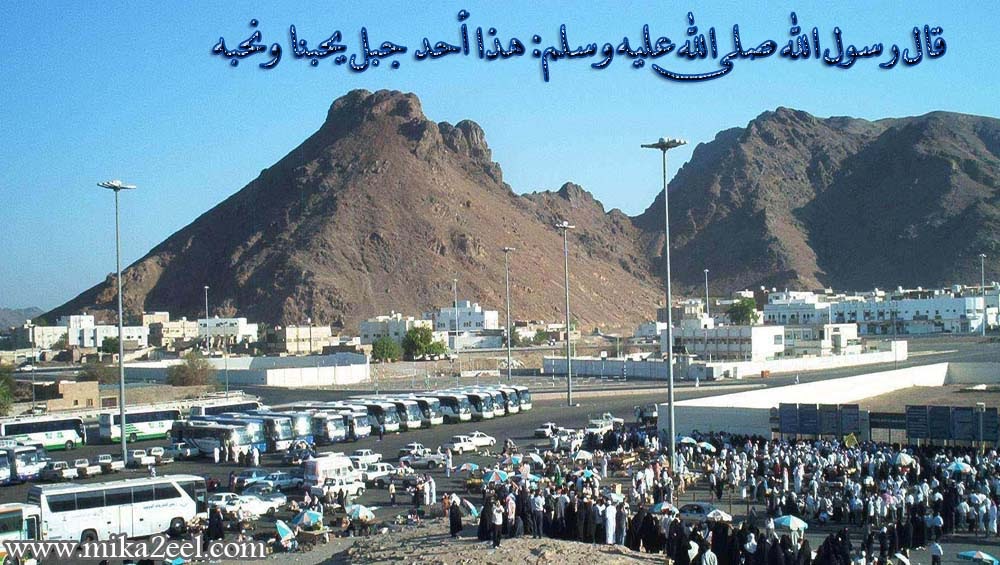 Remembering their setback in Badr, the Quraysh carefully set up their rows. Khalid bin Waleed was given the charge of the right wing of the army, while 'Ikrama was appointed the commander of the left wing. The cavalry was given under the command of Safwan bin Umayya, a famous dignitary of the Quraysh. 'Abdullah bin Rabi'a was appointed the commander of the troops of the archers. Talha was the flag bearer. He had purchased 200 horses for emergency in the battle. ( Tareekhe Tabri, 3: 62-63. )  Before the war drum was beaten, the women of the Quraysh appeared reciting war songs on the beatings of Daff (tambourine) in which there was a mention of those who were killed in Badr and an urge for revenge for their blood. Hind, Abu Sufyan's wife, was in the lead, with fourteen women following her. They were singing:
"We are the daughters of the stars in the sky,
We are those who walk on carpets,
If you advance to fight, we will embrace you,
But if you step back, we will separate from you."
Beginning of the Battle of Uhud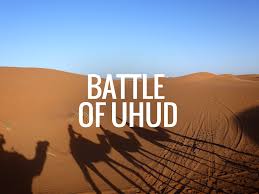 At the beginning of the battle Abu 'Aamir, who was at one time a very popular person in Madinah, stepped forward with 150 soldiers. Before the advent of Islam, the people of Madinah held him in respect due to his piety. He thought that the Ansar would desert the Prophet (pbuh) when they saw him. He, therefore, called the Ansar aloud, "Do you recognize me? I am Abu 'Aamir."  The Ansar called back, "Yes, we do, O evil-monger! May Allah never grant you the fulfillment of your wish." (Musnad Ahmad, 4: 46, Mustadrak Haakim, 2: 107-08.)
     Talha, the flag bearer of the Quraysh, then stepped ahead of his line and challenged the Muslims, "Is there anyone among you, O Muslims, who may quickly send me to hell, or enter paradise at my hands?" 'Ali responded, "Here I am." He then attacked Talha with a sword and the next moment Talha fell dead to the ground. ( Tareekhe Tabri, 3: 63. ) Talha's son 'Uthman took the flag in his hands and singing war verses attacked the Muslims. He was reciting:  "It is the duty of the lancer that he colors his weapon with blood, or it gets broken in the encounter."
 Hazrat Hamza came forward to face him. He hit 'Uthman with a sword at his shoulder so strongly that it pierced down to the waist. He then uttered loudly, "I am son of the provider of water to the pilgrims."
   Now an all-out battle began. (Seerat Ibn Katheer, 3: 34, Seerat Ibn Hisham, 2: 74. )Hazrat Hamza, Hazrat 'Ali, and Hazrat Abu Dujana attacked the enemies and killed many soldiers. ( Tareekhe Tabri, 3: 64. ) Abu Dujana was a famous wrestler of Arabia. Before the battle, the Prophet (PBUH)) had raised his sword high and asked, "Who will prove worthy of this sword?" Many Companions stretched their hands, but the Prophet (PBUH) gave it to Hazrat Abu Dujana. This unexpected honor created a sense of pride in him. He wrapped a piece of red cloth over his head and proceeded to the battlefield, walking with proud steps. The Prophet (PBUH) commented, "Allah dislikes one's walking proudly this way, but today it pleases Him." Abu Dujana kept advancing, killing his opponents one after another, till he came upon Hind, the wife of Abu Sufyan. Putting his sword over her head, he spared her and said, "It is not befitting that a woman is killed by the Prophet's sword." ( Mustadrak Haakim, 3: 256, Mustadrak has affirmed it. Tareekhe Tabri, 3: 63, Seerat Ibn Katheer, 3: 30-31. Some parts are also mentioned by Imam Muslim and Imam Ahmad. )
 Hazrat Hamza was a great warrior and was superbly skilled in fencing. Whichever direction he headed, he killed his enemies in a large number. In this way, he came upon Neba' Ghabshani and challenged him. Neba' got killed. Habshi, the slave of Jubayr bin Mut'am who was promised freedom for assassinating Hazrat Hamza, was waylaying. He was an Abyssinian and was expert in using a weapon called Hirba, which was like a small lance. He had poisoned it to make it deadly. He hit Hamza from a distance by throwing it upon him. It pierced into his navel and passed through. (Sahih Al-Bukhari, Kitabul Maghazi, Bab Qatl Hamza bin 'Abdul Muttalib. ) Hazrat Hamza tried to attack him, but as the weapon was extremely poisonous, he fell down and breathed his life. (Seerat Ibn Katheer, 3: 34.)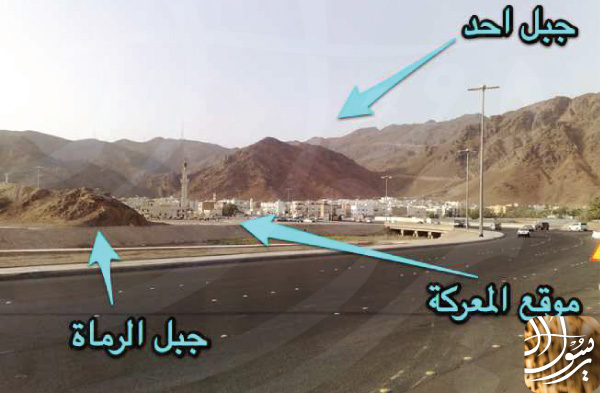 Related  Articles: If you want to read more related articles, Please click the following.
  About CEO Al-Asad Online
Hafiz Abdul Hameed
Master In Islamic Studies
(Tajweed, Waqf)
Web Developer/Administrator
Web Content Writer
Blogger, SEO Expert
Graphic Designer
WhatsApp: +92 3017363500
E-Mail: hdhuddi@gmail.com
https://youtu.be/n8WWOuEZyZk