Economic Empowerment: Economic system is the pillar of the development and progress. This system has given rise to new groups in the entire world. One is developing group and other is developed group. The world is being governed and guided by the later group. Banking system has the key role in the new economic system. And this bank system is the power of monopoly among the nations and countries. Economic Empowerment is also the sub branch of central banking system. The present book namely Economic Empowerment is being presented to give the detailed view of the banking system and the mechanism of the bank working.
Economic empowerment is the need of the day and is essential for survival in the world of today where the rich have all the rights and the poor are the slave of the rich and their economy. The major portion of the population is women. They almost form the half of the population and are determined to take active part in the economic development of the country and nation. Empowering the women means the empowerment of the nation and the country. If such a large portion of the population is kept behind and is not allowed to take part in the economic activities, the country is bound to lag behind.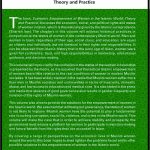 Language
English
Print length
630 Pages
Hardcover
680 pages
Economic empowerment secures the security and defense of the country also. The present book throws light on the role of the Muslim women in the progress and development of the nation and country. Islam has given clear-cut instructions regarding the role of the women in the society. The book also analyses the status of the women in the contemporary societies. Islam gives the equal position to the men and women in the society as the citizen of the country. But as regards their responsibilities and rights in the society are concerned, they are different.
The media of the preset day has created particular type confusion about the status of the women in Islam and society. The writer of the book has tried his best to wipe away the confusion created by the media and to give the true status of the women in the society. It has been spread in the world through media that the Muslim women suffer most in the society as the number of restrictions are imposed on them and are bared to take part in the social life of the society. The writer rejects this false notion and clears the fact that Islam has given the equal rights to the women. 
The book suggests some means and ways for the empowerment of the women in the society. The government should make sure that the suitable platform is being provided to the women in order that women should be able to take more part in the decision making.
The book contains very interesting information regarding the right and responsibilities of the Muslim women in society.
Question and Answers Economic Empowerment
Ethics: Theory and Contemporary Issues by Barbara MacKinnon, Business Management, Applied Statistics for Business and Management by Linda, The Ottoman Empire, The Byzantine Empire , The Great Arab Conquests, The Safavid Empire, The Mughal Empire, Qur'anic Keywords, Islamic Empires, History of Arab Empires, and The Abbasid Caliphate
Economic Empowerment of Women in The Islamic World
Hafiz Abdul Hameed
Master In Islamic Studies
(Tajweed, Waqf)
Web Developer/Administrator
Web Content Writer
Blogger, SEO Expert
Graphic Designer
WhatsApp: +92 3017363500