Buy Horizons in the Arabic Language Volume 4: Leaning of the language is the most technical skill and this technique of learning as well as conveying in the said language comes through practice of the rules of that language. The Arabic language is the language of Islam and the Holy Quran. The reciting and listening the Holy Quran is the sacred duty of the Muslims. It is ordained times and again in the teachings of the religion Islam that reciting the holy Quran smoothly, fluently and beautifully has great importance and it is promised that those who recite the holy Quran smoothly, beautifully and fluently would be included in the company of the noble and obedient.
On the other hand, those who find difficulty in reciting the holy Quran and they recite it with difficulty, stammering or stumbling over the words and their pronunciation would be rewarded in double quantity.
This collection lays the organization foundations essential for college students to broaden language talent for the future. Now more emphasis is laid on sentence formation and conversational Arabic. The alphabet is delivered the usage of amusing illustrations. Students are guided to utter the proper pronunciation. There is a slight introduction to vowels and primary vocabulary.
Nasheed sections integrate amusement with education. Oral drills the usage of quick sentences permit college students to start growing their spoken language capabilities. The goal is to make mastering Arabic extra without difficulty potential and fun for college students. Students start to carry out the 'Tajreed' of the letters and learn the way they may be utilized in exceptional words. Over all degrees the scholars are delivered to extra grammar and vocabulary with cognizance the usage of amusing illustrations.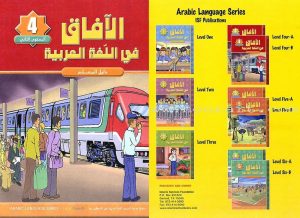 Language Arabic , Paperback only , Best Book for Kids. Arabic Language Textbook: Level 4 الآفاق في اللغة العربية , كتاب الطالب
Alphabetical know-how is strengthened and the 'Tanween' is delivered at positive age suitable level. Conversational capabilities are similarly advanced the usage of a broader variety of vocabulary. Writing capabilities are centered upon. Islamic poetry, haddith and 'Surahs' are studied. The workbook dietary supplements the textbook to be able to decorate comprehension and writing capabilities. Coloring activities, phrase formation and writing exercise physical activities to enhance the brand new grammatical principles delivered withinside the textbook.
More over workbooks accompanies the textbook Includes amusing coloring and matching activities; plenty of physical activities to exercise forming the letters and to enhance principles. This is a good sized workbook as college students want lots of exercise at this level of language study. The tenses which might be delivered within the textbook comprised the masculine and female nouns and different grammatical principles.
The book can be helpful in learning the Arabic language with all its grammatical complications and complexities. The learners are sure to have the grip on the spoken language after he has gone through the book and understood the basics of the Arabic language in terms of word formations, sentence structures and vocabulary system of the Arabic language.