Journey to Learn the Arabic Language: Language is the basic tool to convey the message and to develop the relations with the other human beings and society. Language is the only mean to have discourse and conversation in the society. Meaningful language and the pragmatic aspects of the language help people to understand and convey their feelings in the form of short sentences or even using the idioms. No language in the world can be possible which is only found in the written forms and spoken language is missing in it. Phrases and clauses are the life and soul of the language and are used in the day to day life. These clauses and phrase enhance the beauty of the language. The user must have the basic knowledge of the basic units and portion of the grammar. The phrases and clauses include the Arabic greetings and Arabic lessons. The Arabic pronunciation is also very important and can be learnt easily with the help of phrases and clauses.
The book is written not by the drawing room authors who see things from outside and from far off. It is written by the expert of the language who taught the students for a decade. He has vast experience of teaching the Arabic language and therefore, he has more command over the language and is more able to see the problems faced by the students and the learners of the language. The students would surely get huge benefit for the book in improving their language skill and grammar as well.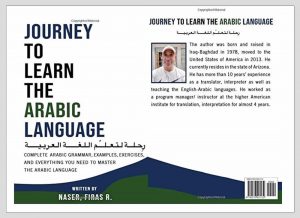 Language
English
Paperback
131 Pages
Item Weight
14.4 Ounces
Journey to Learn the Arabic Language is the main focus of the book and can be paved with the help of the book. It is no doubt that there is no easy way to reach and get the great achievements but it requires hard and continuous struggle and hard work by the contestant. Arabic language is not difficult to learn but it requires hard work to get the basic knowledge of the language and it further needs labour to be expert in the spoken language. Learning any language is art and it comes through the continuous practice and definitely practice makes the person perfect and expert in the desired field.
The book is written in special way for the students as well as the learners to learn the art of the language learning and speaking. Arabic language is the language of religious Islam and the last book of Allah is in the Arabic language. The Muslims all over the world daily recite the holy Quran. In this sense, it is one of the most widely read languages in the world but the basic language of the Arabic language is known to the majority of the people. Most of these people belong to the Arabic countries.
FIRAS R. NASER is the writer of the book and he has taken much pain and trouble to gather the main and the basic knowledge of the Arabic language in the form of book. The book can prove very valuable for the people who have any intention to visit the Arabic
Hafiz Abdul Hameed
Master In Islamic Studies
(Tajweed, Waqf)
Web Developer/Administrator
Web Content Writer
Blogger, SEO Expert
Graphic Designer
WhatsApp: +92 3017363500