The Light of Dawn: Daily Readings from the Holy Qur'an: The Quran presents the complete solution our present problems and issues. It is acted upon and followed in the day to day life my millions of the Muslims. The Muslims keep it dear and sacred and don't dare to violate the rules described in this highly life changing book. Many non Muslims accepted and embraced Islam by reading and understanding the message and teachings of Islam. The Quran has the power to change the entire concept of life if it is read and studies with proper explanation and references. The Light of Dawn: Daily Readings from the Holy Qur'an is very useful book for keeping in the book collections.
Like The Light of Dawn by Camille Adams Helminski
The Quotes from Quran are special gift for the Muslims in the holy month of Ramadhan. These quotes contain the vital message from Allah Almighty. These are there to remind you of your duties towards your fellow human beings. The light of dawn means the light that differentiates the night from the morning. A light that tells that the darkness of night has come to an end at last and new light and day has begun. It is the light that brings us from the darkness of ignorance to the light of knowledge and awareness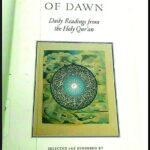 Print length
256 pages
Language
ٰEnglish
Paperback
Only
The book has all the quotes that cover the daily life of human being. It covers each and every aspect of daily life leaving no corner untouched. The light of dawn title is given to the book because it deals with the making aware of the people to come to the light and leave the ways of darkness and evils. Come to the straight path which is the right path and the path of Allah and leave the path of evils doer and the path for which Allah Almighty shows His anger.
The amazing selection of the ayah and verses is wonderful and work of hard labour. These ayahs and verses are also explained in detail and in accordance with the teachings of holy Quran. The new concept regarding these quotes have made the book interesting and worth reading. The quotes have great significance in the life of every Muslim. The language of the explanation of the quotes is very appropriate and suited to the cause of the writing of the book. The language used by the writer is understandable and comprehensible even for the people who are highly educated and well-trained n understanding such things.
Your collection of books will be incomplete without the presence of such valuable book. Just place your order as soon as possible and you would highly obliged when you go through this grand book. The book is valuable in the sense that it could benefit to those who are interested in the study of comparative of religions or Sufism.
Reader Questions & Answers
Awesome Quran Facts, Arabic language , Join learn Quran Online Academy, learn Arabic Free, Quran Kareem:
Ask the QuranMualim community a question about The Light of Dawn by Camille Adams Helminski
Hafiz Abdul Hameed
Master In Islamic Studies
(Tajweed, Waqf)
Web Developer/Administrator
Web Content Writer
Blogger, SEO Expert
Graphic Designer
WhatsApp: +92 3017363500