A contraction is a word, phrase or sentence that has been reduced by dropping one or several letters. An apostrophe in writing is used to indicate where the letters are missing. Contractions are used in speech, informal writing forms, and other situations where space is limited, such as advertising.
You may not use contractions in formal writing such as grant proposals or academic papers.
Why do we use Contractions?
In normal conversation, we rely on contractions a lot. People expect that their conversation will include contractions ( won't), whenever possible. This saves them time and helps to keep the conversation flowing.
Many people believe that contractions should not be written. However, this misconception is false. Tone is directly linked to the use of contractions.
informal writing is a way to keep a casual tone. This includes text messages, blogs, memos, and personal essays. Avoiding contractions in more formal writing assignments, such as academic reports and term papers, is a way to establish a more serious tone.
Consider your audience and the purpose of your writing before you decide whether or not to use contractions in writing assignments.
Suggested Read: Beginning Was The Word, Be Anxious For Nothing, Bengali Alphabet, Ashura Meaning and Halal Dating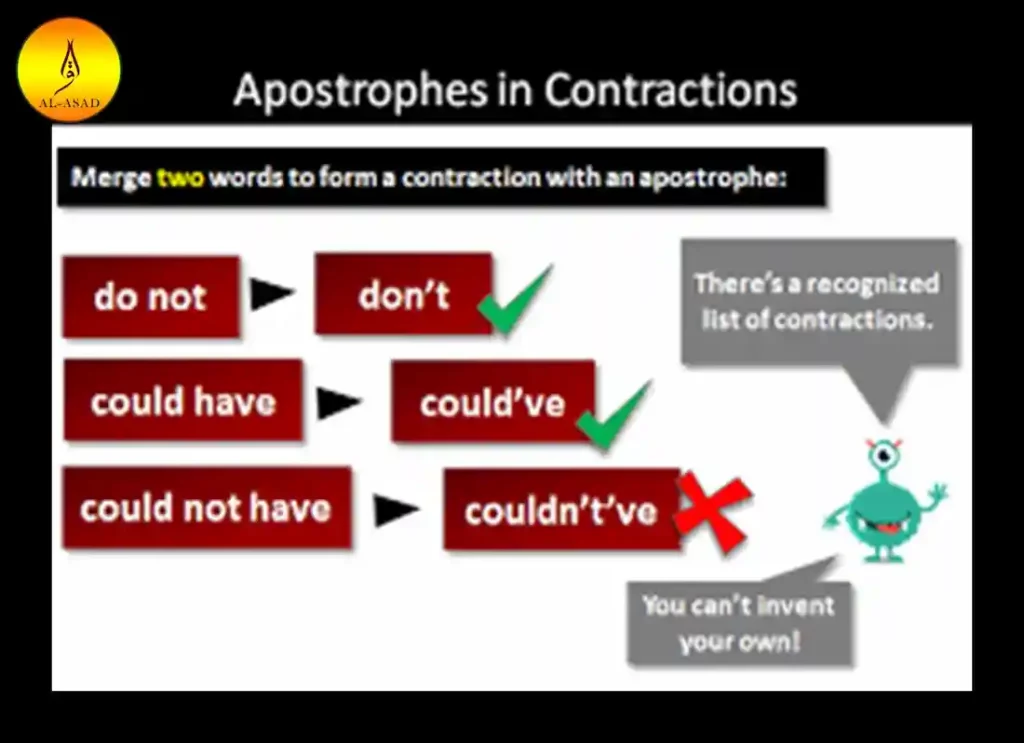 The Contractive Po strophe
An apostrophe indicates the place where one or more letters were omitted in telescoped words and phrases, such as doesn't, there's, sou'wester. This does not always indicate the place where words are joined. This apostrophe also goes by the contractive apostrophe.
Some people, such as the Irish playwright George Bernard Shaw have been for eliminating apostrophes completely. Shaw called them "uncouth Bacilli", though it is unlikely that Shaw's analogy with bacteria will make the apostrophe disappear anytime soon.
Contracted Nouns and Pronouns
Contractions with nouns are quite common in casual conversation ("My father'll soon be home"). They are much more common in writing than those involving pronouns like he'd and she's. Proper nouns can be contracted to indicate is and has. This would be the sentence " Shelly's visiting us" or " Jeff's buying a new computer." Be aware of the homonyms whose. The contraction is "who is"/ "who has" and the entire word is possessive as in "Whose car?" You'll also likely hear "y'all," if you visit the South.
Negative and Verb Contractions
Contractions often use auxiliary verbs or helping verbs such as to be/have, can, have and do. It doesn't rain, or it'sno raining. We cannot say it isn't pouring. Negative clauses offer us the option of using not ( isn't) or contracting the pronoun/verb ( it's). But we can't do both.
Contracting "Not"
You can attach the contracted form of not(n't), to finite forms for the help verbs be, do and have. amn't, which is mainly Scottish and Irish, is very rare, in contrast to the widely disregarded ain't.
The not form can be attached to most modal auxiliaries, such as cannot, could, shouldn't and won't, wouldn't. But, Americans won't say mayn't or will not. Even those contractions are too formal.
Suggested Read: Aqiqah, Angel of Death, Learn Arabic, Muslim Islam, Eating & Drinking, What Does Sunnah Mean? , Life After Death, Root Words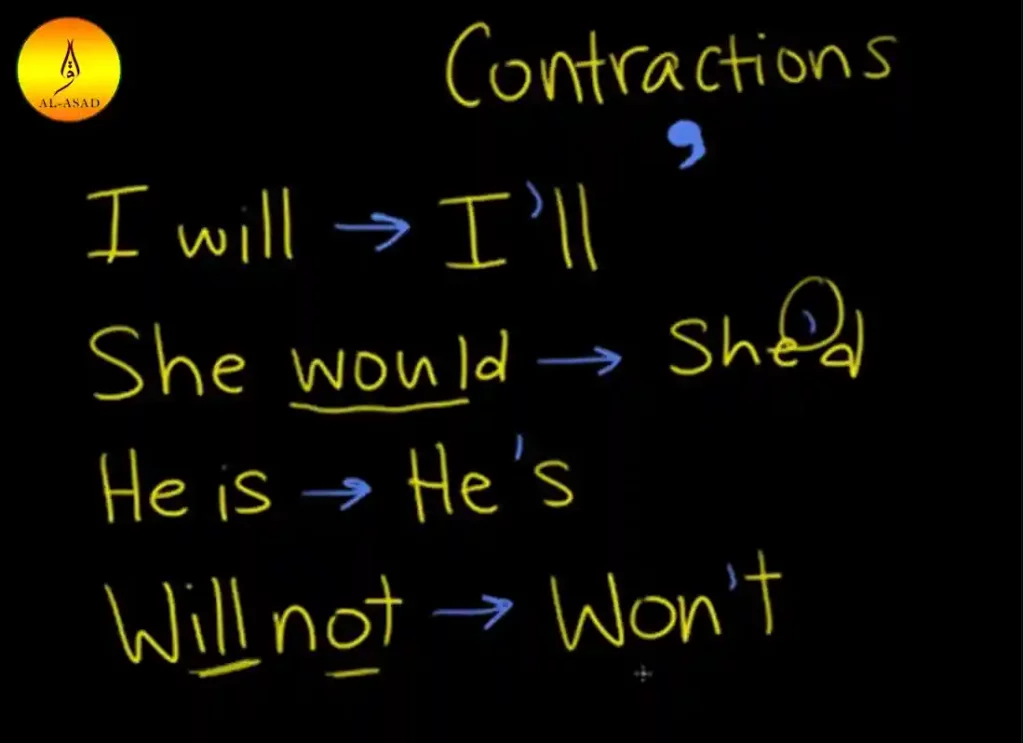 Tag Questions
A tag question is a question that is added at the end of a declarative sentence. It's usually used to verify that something has been done correctly. It could be, for example, "It's a tag question"
Negative tags are often used because of their informal nature: Didn't we? haven't you? Aren't they? It is less formal than we were? or did we not?
Ambiguous Conditions
Many contractions ending with d or s are unclear. The 'd could be either had or would, while the's could represent either has/is. The context usually reveals the meaning of these contractions. "Sam finished his term paper" means that Sam has completed the past, while "Sam is tired" refers to Sam being in the present.
Multiple Contractions
Although they may not look right in print, certain multiple contractions like I would've (or I'd'a), and wouldn't've are quite common in speech. It's easy to say, "If had explained the real reason, you probably wouldn't have come back with you." Quite often, we don't even notice it. As we speak, the words flow together.
There are some double- and even triple-contracted nautical terms in the rarities category. These words include bo's'n, which is short for boatswain, and fo'c's'le, which are variants of forecastle. Words that most landlubbers could probably live without.
Be careful not to sprinkle apostrophes all over the place.
Apocope, Syncope and Aphaeresis.
Another common form of linguistic shortening, or elision, is the omissions of certain sounds and letters from a word.
Aphaeresis is a phonetic term for elision at a word's beginning (for example gator to alligator). It is called a syncope when it appears in the middle of a sentence ( ma'am from madam). It is called an apocope when it appears at the end a word ( Ad from advertising).
Suggested Read: Brother-in-Law, How To Spice Up Your Marriage?, How to Make Someone Obsessed With You?, Islamic Creation Story, Prayer For Someone You Love To Come Back, When Did Islam Start? and Love Dua
As in flu, apocope and aphaeresis can co-occur.
Standard Contractions in English
The following table contains a list of over 70 English contractions.
| | |
| --- | --- |
| aren't | They are not |
| can't | It is impossible |
| couldn't | Could not |
| could've | Could have |
| didn't | It didn't |
| doesn't | It does not |
| don't | do not |
| e'er | Ever |
| hadn't | It was not |
| hasn't | It has not |
| haven't | You don't |
| he'd | He had, he would. |
| he'll | He will, he will |
| he's | He is, he has |
| I'd | I could have; I would. |
| I'll | I will, I will |
| I'm | I am |
| I've | I have |
| isn't | It is not |
| it'd | It would |
| it'll | It will; it will |
| it's | It is, it has |
| let's | Let's get started |
| ma'am | madam |
| mightn't | It might not |
| might've | Could have |
| mustn't | You must not |
| must've | Must have |
| 'n' | And |
| needn't | You don't need to |
| ne'er | Never |
| o'er | Over |
| ol' | Old |
| oughtn't | It shouldn't |
| shan't | You won't |
| she'd | She had, she would. |
| she'll | She will, she will |
| she's | She is, she has |
| shouldn't | Should not |
| should've | Should have |
| that'd | That would be great! |
| that's | That is, that is. |
| there'd | There was; there would be. |
| there'll | There will be. |
| there's | There has been; there is. |
| they'd | They had, they would. |
| they'll | They will, they will |
| they're | They are |
| they've | They have |
| 'twas | It was |
| wasn't | It was not |
| we'd | We had, we would |
| we'll | We will |
| we're | We are |
| we've | We have |
| weren't | They were not |
| what'll | What will? |
| what're | What are you looking for? |
| what's | What is? What has? |
| what've | What have you done? |
| where'd | Where did it go? |
| where's | Where is it? |
| who'd | Who had? |
| who'll | Who will? |
| who's | Who is it? |
| who've | Who has |
| why'd | Why did it? |
| won't | Will not |
| wouldn't | It would not |
| would've | Would have |
| you'd | You had, you would. |
| you'll | You will, you will. |
| you're | You are |
| you've | You have |
http://www.quranmualim.com/
Lists of common contracts
BE
WOULD
HAVE
HAD
I
I'm
I am
I'll
I will
I'd
I would
I've
I have
I'd
I had
You
you're
You are
you'll
You will
you'd
You would
you've
You have
you'd
You had
He
he's
He is
he'll
He will
he'd
He would
he's
He has
he'd
He had
She
she's
She is
she'll
She will
she'd
She would
she's
She has
she'd
She had
It
it's (or 'tis)
It is
it'll
It will
it'd
It would
it's
It has
it'd
It had
We
we're
We are
we'll
We will
we'd
We would
we've
We have
we'd
We had
They
they're
They are
they'll
They will
they'd
They would
they've
They have
they'd
They had
That
that's
That is.
that'll
That will.
that'd
That would be great!
that's
That is it.
that'd
That was it
Who
who's
Who is it?
who'll
Who will?
who'd
Who would?
who's
Who has?
who'd
Who had
What
what's/what're
What is/What are you looking for?
what'll
What will it take?
what'd
What would it look like?
what's
What has happened?
what'd
What had it been?
Where
where's
Where is it?
where'll
Where will it all end?
where'd
Where would it be?
where's
Where has it been?
where'd
Where was it?
When
when's
When is it?
when'll
When will it be?
when'd
When would
when's
When has
when'd
When was it?
Why?
why's
Why is it?
why'll
Why will?
why'd
Why would you?
why's
Why has it happened?
why'd
Why had
How
how's
How does it work?
how'll
How will it work?
how'd
How would you do it?
how's
How has it been done?
how'd
How could you have?
http://www.quranmualim.com/
Double Contractions
| | |
| --- | --- |
| WORDS | DOUBLE CONTRACTION |
| She would have | she'd've (colloquial) |
| It isn't | 'tisn't (archaic) |
Woulda-Shoulda-Coulda
| | |
| --- | --- |
| WORDS | CONTRACTION |
| Would have | would've |
| Should have | should've |
| Could have | could've |
| Could have | might've |
| Must have | must've |
http://www.quranmualim.com/
Odd Contractions
| | |
| --- | --- |
| WORDS | CONTRACTION |
| Of | o' |
| The clock is ticking | o'clock |
| madam | ma'am |
| never-do-well | ne'er-do-well |
| cat-of-nine-tails | cat-o'-nine-tails |
| jack-of-the-lantern | jack-o'-lantern |
| will-of-the-wisp | will-o'-the-wisp |
| It was | 'twas (archaic) |
http://www.quranmualim.com/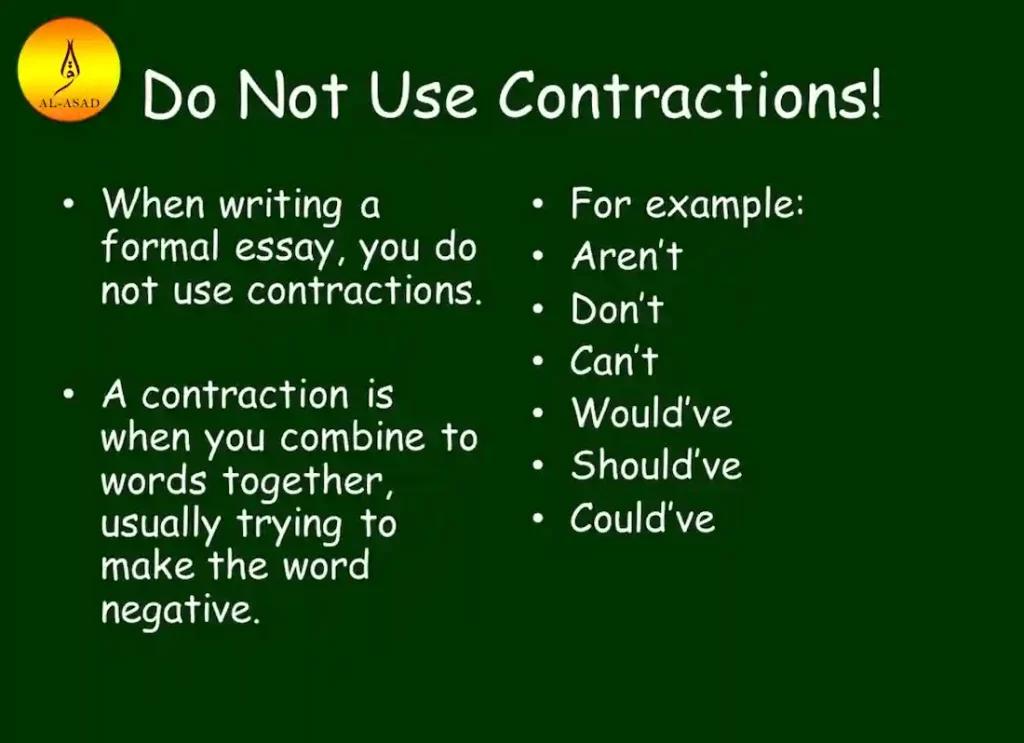 Suggested Read: Arabic Flower ,Is Any Singular or plural?, Another Word For Amazing, Analytical Strengthsfinder, Halal Mexican Food, Halal Korean Food, Good Deeds, Allah
Contractions FAQs
What is a contraction?
Two or more words are combined to make a contraction. You can usually identify a contraction using the apostrophe. For example, isn't or are they. But don't confuse contractions and possessive nouns which also use apostrophes.
What are contractions?
Contractions take the place of the words they are replacing and replace them with sentences. Some letters are usually removed. This is indicated by the apostrophe
When is it appropriate to use contractions?
Contractions should not go in academic writing.
What examples of contractions are there?
The most commonly used contractions in English are can't, it is, they've and what's.
Continue to Contract
After you've mastered the basics of contractions, let's take a look at how you might still be confused by contraction words.