PLEASE NOTE : COLOR MAY BE VARY BETWEEN BLACK,WHITE,GREEN,PURPLE Al-Quran Al-Kareem Maqdis Word-By-Word Translation & Color Coded Tajweed (Arabic-English) Large Size 12 x 8.5 x 1.0 inch Al-Quran Al-Kareem Maqdis is a translation learning method of word-by-word Al-Quran with every word and sentence is colored differently, in Arabic and English. Each word in Quran was translated literal. 
Suggested Read : How Many Chapters in Quran? ,la ilaha illa anta subhanaka, Has The Quran Been Changed?, How Many Pages in Quran? , Allahumma Ajirni Minan Naar, Allahu Mahdina, Allahu Alam , Allah Yashfeek , Allah Subhanahu Wa Ta'ala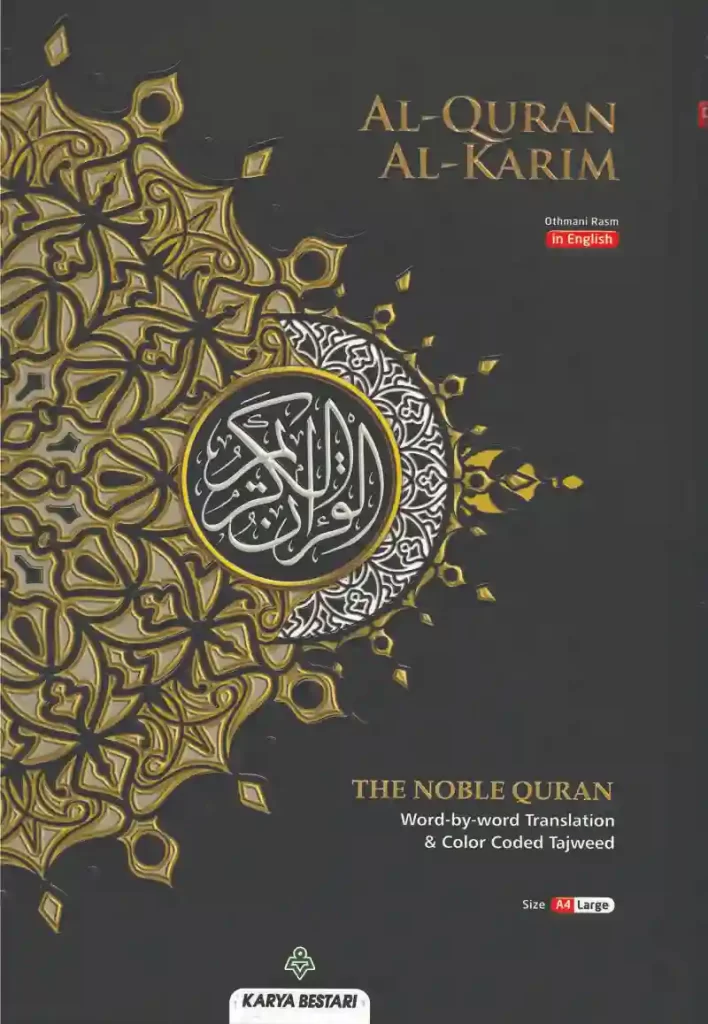 Quran was translated literally to ensure that the reader could understand the meaning behind each word. It is crucial to keep in mind that not all literal translation conveys the exact significance of the word because the Quran utilizes various Arabic style of writing and, often, metaphors. 
To comprehend the meaning behind the phrase or word, Muhsin Khan's the Holy Quran Translation was included in this translation. To grasp the fullness and significance Quran reading this commentary of the Quran from a respected scholar is highly recommended. It is approved from the Department of Islamic Development of Malaysia (JAKIM) and Malaysian Ministry of Home Affairs (KDN).
Product details
Publisher: Karya Bestari
Language : English
textbook binding:633 pages
ISBN-10 : 2130754600
ISBN-13 : 978-2130754602
Item Weight : 2.86 pounds
Suggested Read: Travel Dua, Morning and Evening Duas, Ghusl Dua , Entering House Dua and Dua For Wake Up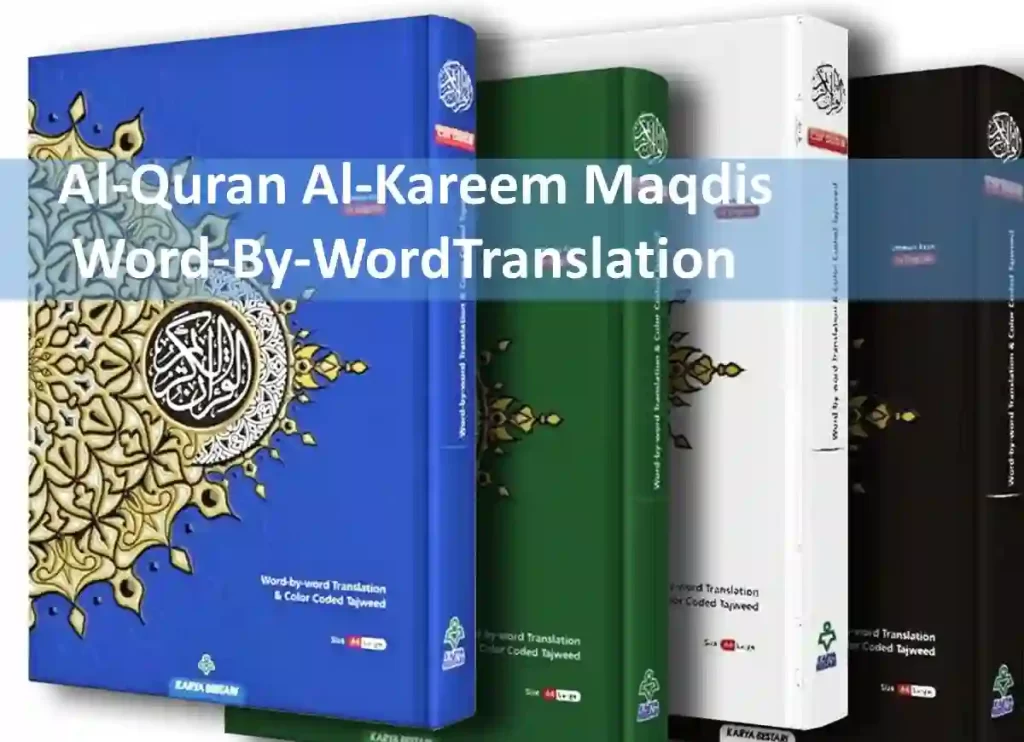 Find out more about works written by author, check at other authors who write in similar genres, check out blog posts by authors, and many more.
al-QuranalKareem Maqdis is a method of learning the translation word-by-word of Quran which has each word and sentence colored differently, in Arabic and English.
Each word in the Quran is translated literally so that the reader can be able to understand the meaning behind every word.
It is important to be aware that not all literal translations accurately reflect the meaning of the word, because the Quran employs a variety of Arabic style of writing and often uses metaphors. To fully understand the significance to the meaning of verse, it is advised to go through it in the Noble Quran English Translation by Dr. Mohsin Khan The translation of the Noble Quran by Dr. Mohsin Khan(approved by the Islamic University Of Madinah) is accessible on the right.
Additionally, information about Asbab al-Nuzul (reasons which reveal) have been added to facilitate comprehension of Quran.
The Arabic text of the Quran has been written with distinct colors that reflect the tajweed guidelines and makes it easier to say the Quran according to its Tajweed regulations.
The approval was granted by Department of Islamic Development of Malaysia (JAKIM) and Malaysian Ministry of Home Affairs (KDN).
Highlights:* Rasm Uthmani script in English
* Word-by-word translation of English-Arabic
Color Coded Tajweed
* Asbab al-Nuzul
* Real Hadiths
* Riyad-us-Saliheen
* Al-Quran Language Dictionary ( Mu'jam)
Suggested Read:  Dua Leaving House, Dua of Forgiveness, Dua of Taraweeh, Dua of Musa Alayhi'salam, Dua For Success, Dua For Marriage , Dua For Rain, Dua For Parents, Powerful Dua and Dua For The Sick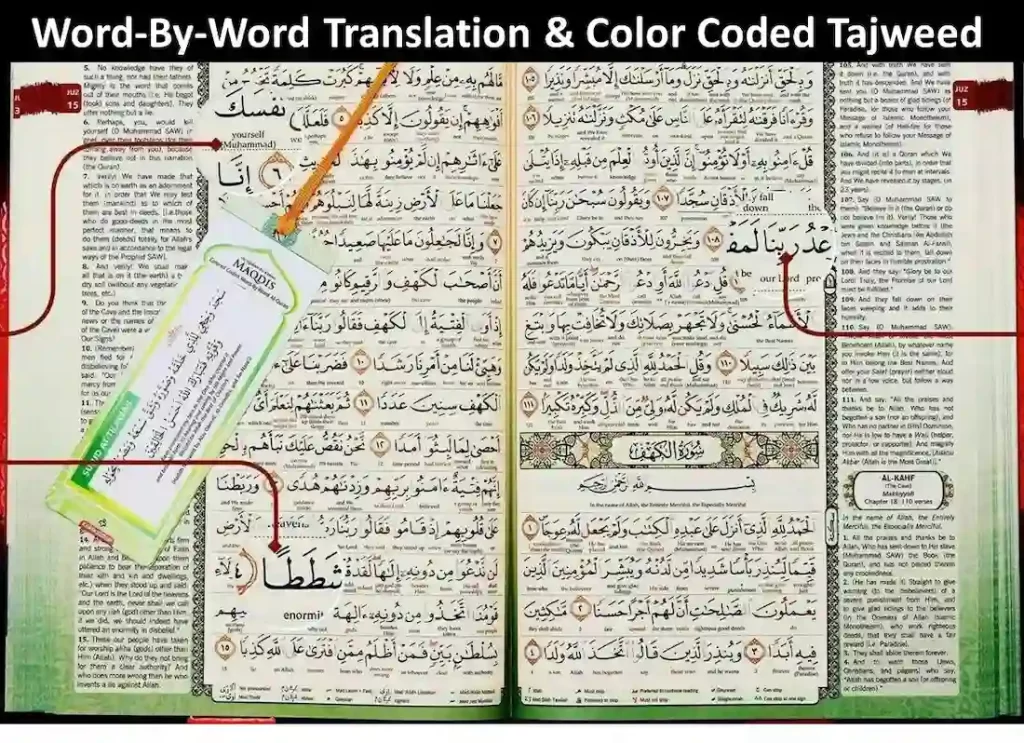 Information
Product details
is being discontinued by the manufacturer No.No
Package Dimensions : 12.01 x 8.62 x 1.06 inches; 2.84 Pounds
Item model number : COLOR MAY VARY
Department :Unisex-adult
Date First Available: February 8, 2018:February 8 8, 2018.
ASIN :B079P62XSC
READ ALSO: