This Arabic word means "let's move" or "come on". It is used when someone or something needs to happen. The word "yallah", which can be used for anything, including getting stuck in traffic or getting people onto the dance floor, will make you feel like a local.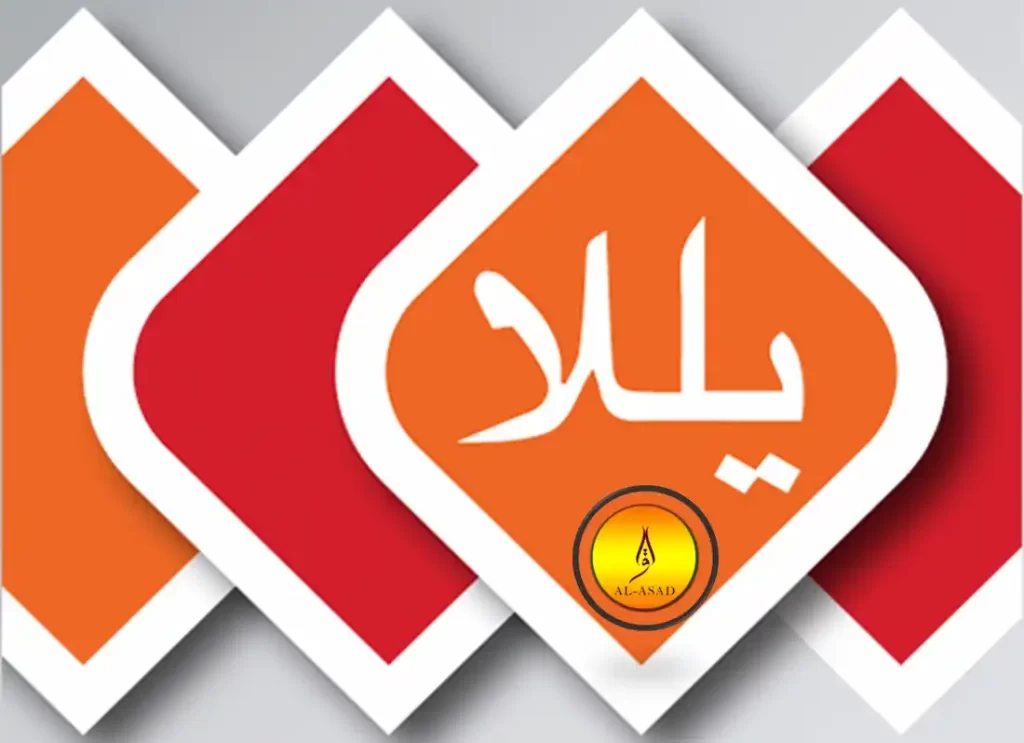 Suggested Read : How Many Chapters in Quran? ,la ilaha illa anta subhanaka, Has The Quran Been Changed?, How Many Pages in Quran? , Allahumma Ajirni Minan Naar, Allahu Mahdina, Allahu Alam , Allah Yashfeek , Allah Subhanahu Wa Ta'ala
The Meaning of YALLAH
YALLAH is Arabic for "Let's go (Arabic)."
Now you know YALLAH is "Let's go (Arabic)." Don't forget to thank us. YW!
What does YALLAH stand for? YALLAH can be abbreviated or slang words. The definition of YALLAH can be found above.
Terms that refer to "let's":
* LBH
Let's be honest
Loser Back Home
* LCTS
Let's change the subject
* LDI
Let's do it
* LEGGO
Let's go!
* LG2W
Let's get to work!
*
Let's get drunk
* LJBF
Let's just be friends
* LMAD
Let's make a deal
* LMIRL
Let's meet in real life
* SGO
Let's go!
*
Let's go!
Suggested Read: Travel Dua, Morning and Evening Duas, Ghusl Dua , Entering House Dua and Dua For Wake Up
Terms that refer to '(arabics)':
* A7A
Frusration, anger (Arabic).
* HABIBI
My darling (Arabic)
* ISA
Inshaa Allah (Arabic), OK
* SALAM
Peace (Arabic)
* YALLA
Hurry up (Arabic).
* ZAIN
Beautiful (Arabic)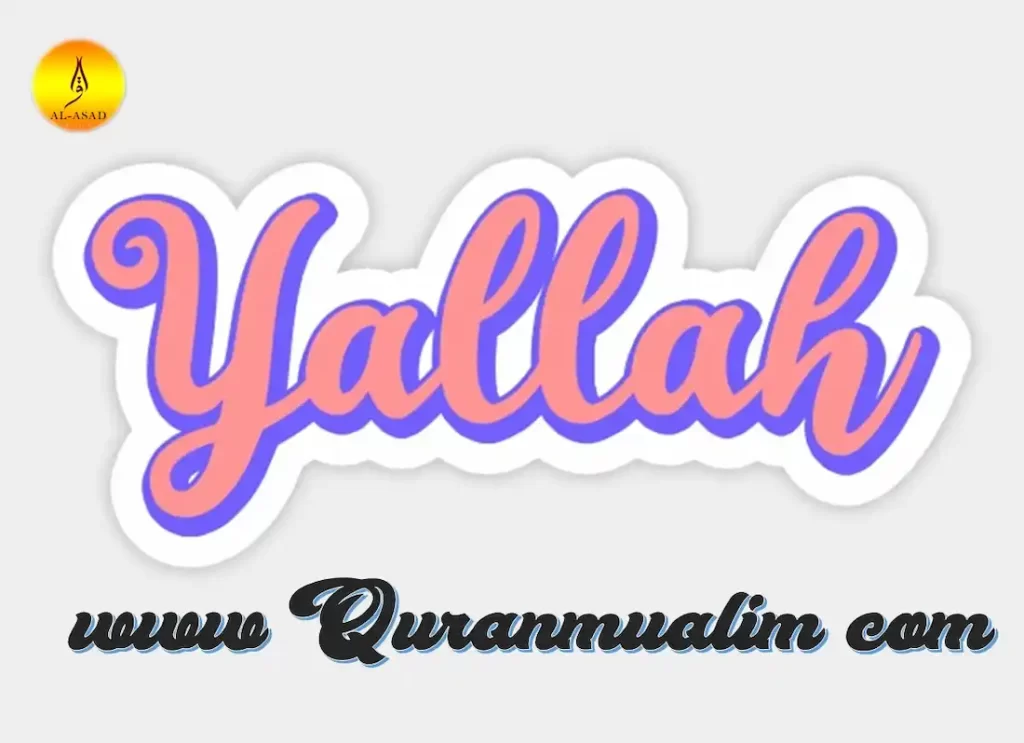 Common Arabic Words and Phrases
Yallah Shabaab
Another translation of "yallah" is "let's move on young people!" It sounds a little long in English but it's the best way to get your friends moving and get in the mood for an outing.
Ya rab
This word basically means "My God", and it is an excellent choice when you want to express frustration or exacerbation about something. It is almost the English equivalent of "Dear God Why?" !"
Mashallah
This word is used to compliment something spectacular or beautiful without being jealous. Young men use this word a lot when talking about girls they like. For example, they might say "She's so sweet and beautiful…mashallah". By adding "mashallah", they can confirm that they are complimenting without being too jealous or overbearing.
Khallas
This word is a favorite of children and grandparents. It means "to end", but can also mean "to stop it", "don't try again", "it's over", or "stop speaking". This word is perfect for when you want someone to let go of your nagging and to give you some peace.
Inshallah
The word "inshallah", which means "God willing", is probably one of the most familiar Arabic words due to how often it is used. However, most people will use it as a synonym for "maybe" or "I don't know, it's out my hands". This word is used when you don't really know the answer or you want to be able to quickly get an answer.
Wallah
This word means "I swear to God" and will be used in conversations between family members or friends more times than you can count. This word can be used in any portion of a sentence. For example, "You won't believe what happened, wallah, even if you told me it would wallah!"
Akeed
This word can be used to indicate "sure" or "yes of course". It is a favorite among younger people. It is usually used as an answer or at the end of sentences. This bright connotation will make the conversation more casual and friendly.
Sabah al Kheir
Literally, this means "good morning". The equivalent in English to this word might be "duh" (or "you're just getting on now?"). This word is often used to joke with friends about someone who is slow to catch up or has just realized something. You would say "good morning (sabah kheir), you finally woke up to the news!"
Kol Hawa
This expression is a bit vulgar in English, but it's used frequently by Arab youth to laugh with one another. It basically means "eat shit" or "shut up". Although this may seem strange to some Arabic speakers, it is a common usage among young Arabs.
Shaku Maku
This is originally a slang term from Iraq, but it's widely used in the Arab world. It's a casual and humorous way to say "what's up?" Another English equivalent could be "what's shaking?"
Ya rayyal
This is a term that means "oh man" and is used by young Arab men to show their frustration in a humorous way. If they lose a match or another similar event, you'll hear lots of "yarayal" repeated over and over.
Kawwaz
This term is used by friends to make fun of someone who is having a brain fart, or is stuck on something and cannot say anything. It is also used for people who are mentally blank or empty for a few seconds. If one of your friends is having trouble understanding something, ask them if they are having a "kawwaz".
Ya Haraam
This word is used to express sadness or sympathy for something. It originally meant "a sin", but it's now being used in slang to refer to something like "oh poor thing" and "I feel sorry …".". If someone tells you a story about someone getting hurt or an accident, you can respond by saying "yaharaam!"
Bi sharafak
Although this word is most common in the Levant, it can be used almost anywhere. This word, which means "seriously Dude?" is used by youth to laugh at things or joke about absurdities.
Shukran
This simply means "thanks". The person in question should respond by saying Afwan. This means "you are welcome".
This is a casual, friendly way to say hello to colleagues and friends.
Mabrook
To congratulate someone on anything, just say mabrook and put a smile onto their face.
Salaam Alaikum/Wa Alaikum Salaam
This greeting is more formal and traditional in Arabic. It is important to know both the parts of the greeting. The first person will say salaam, and the second person will reply with alaikum salaam. It literally means "peace be upon your!" or "and on you be peaceful".
Habibi
When addressing a male friend, habibi or Habibti is a good informal greeting. This can be combined with Yallah to make Yallah habibi which means "hello, my friend".
Suggested Read:  Dua Leaving House, Dua of Forgiveness, Dua of Taraweeh, Dua of Musa Alayhi'salam, Dua For Success, Dua For Marriage , Dua For Rain, Dua For Parents, Powerful Dua and Dua For The Sick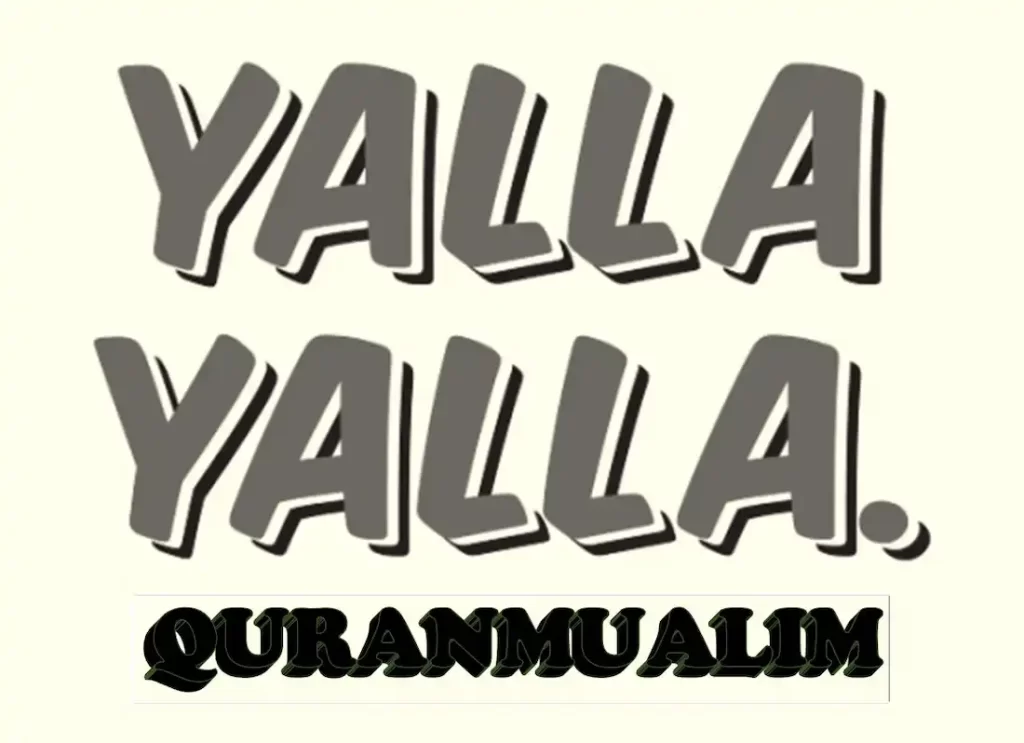 The Basics
Ay-wa/naam: Yes
La': No
La Shu-kran: Thanks
Min Fadlak (when speaking to a male); Min fadliki when speaking to a female:
Aasif (M); Assifa (F): sorry
Ma-salama: goodbye
Tawaqaf: Stop
Maza/Man: Who?/What?
Ayna/Lemaza: Where?/Why?
Kam Ath-Thaman:How Much?
Ana mu-him when talking to a male; Ana fahhma when talking to a woman: I don't understand
The Quick and Easy Answer to Everything!
Ana La ataKalam El Aarabya: I don't speak Arabic
Meeting and Greeting
Ismee [your Name]: My name…
Kaef halak How are you?
Anaa min [country] : I'm…
America
Braita-ni – Britain
O–ro-pi Europe
Al hind: India
Learning The Arabic numerals for 1-10 is as important as learning your ABCs.
Waahadone
Ithnayn: Two
Thaltha: three
arba'a: four
fkhamsafive
sitta: six
saba'a:seven
thamaanya: eight
tiss'a:nine
ashara.ten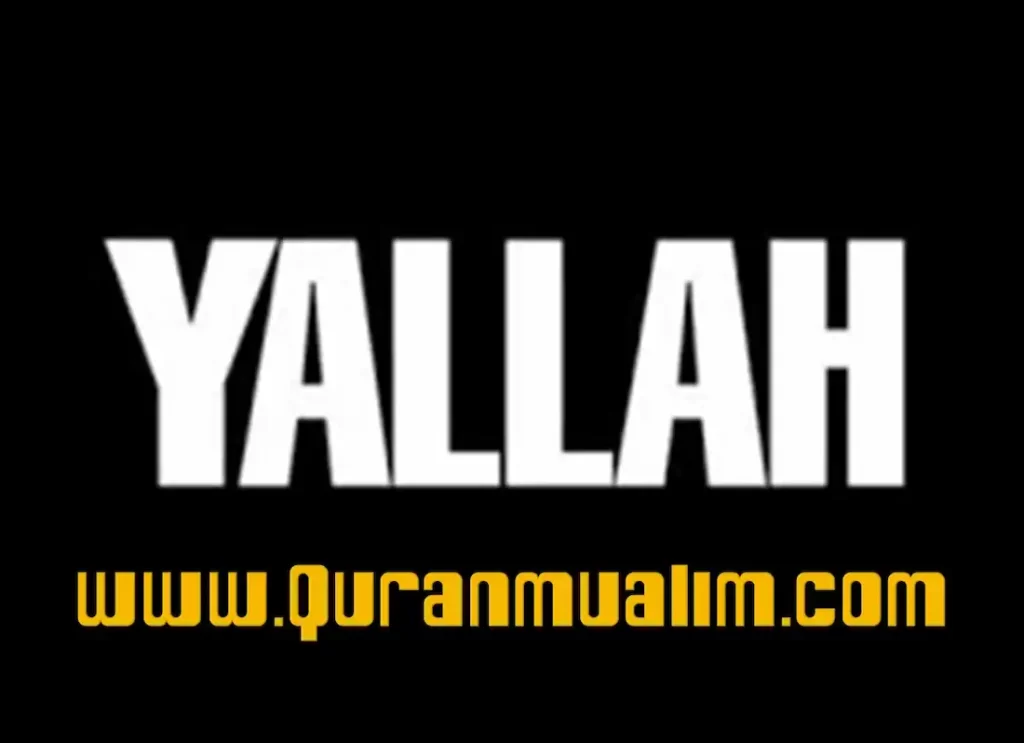 Don't get lost… Discover Your Way Around The City of Arabic
Maazera
You can ask for directions, or get someone's attention by using maazera. This means "excuse".
Wayn al hammam?
Remember how to say Wayn Al Hammam? "Where is the bathroom?".
Ala yamen
Click the link to the right
Ala yassar
Follow the links to the left
Henna
Here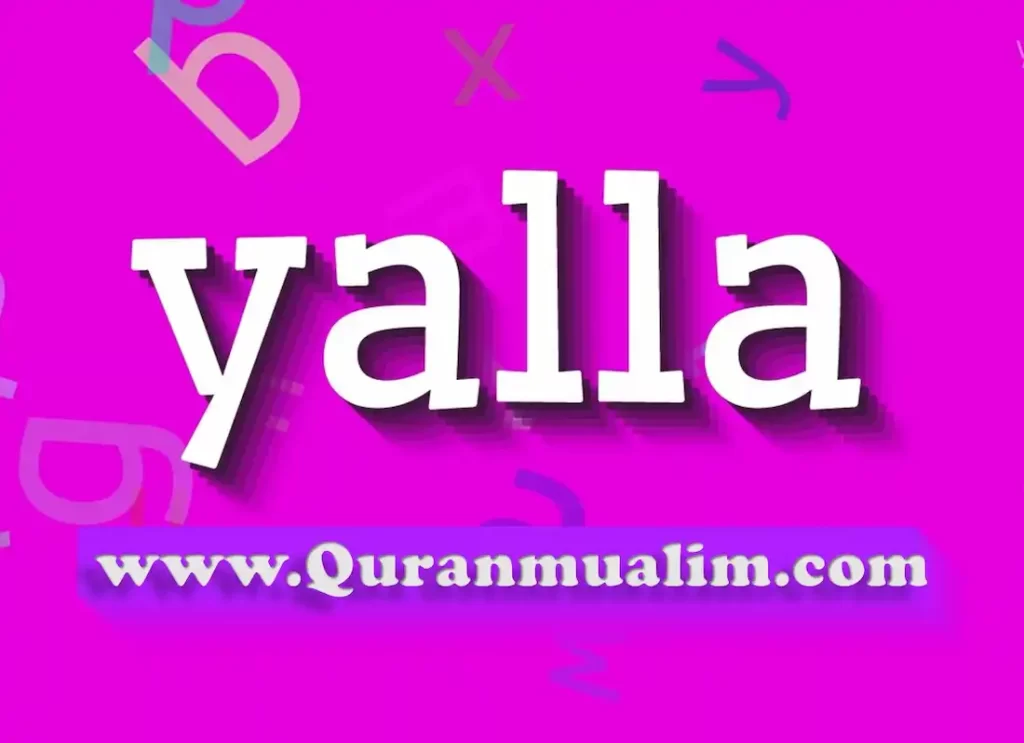 Common questions
Ayna maHatet banseen Where is the closest petrol station?
Ayna Aqrab Saraf Aalee:Where can I find the closest cash machine?
Ayna Al mustashfaa : Where is the hospital?
In an emergency, you may ask for
MosaAda: Help!
Al shurtaa: Police
Moustashfa: Hospital
Dakhtar – Doctor
Hal Ladika hatefDoes anyone have a smartphone?
You'll be welcomed by the locals and given a warm welcome for learning their language. It will also make it easier for you to navigate the country. You can learn Arabic, no matter if you need to say shukran, inshallah or mabrook, salaam akum.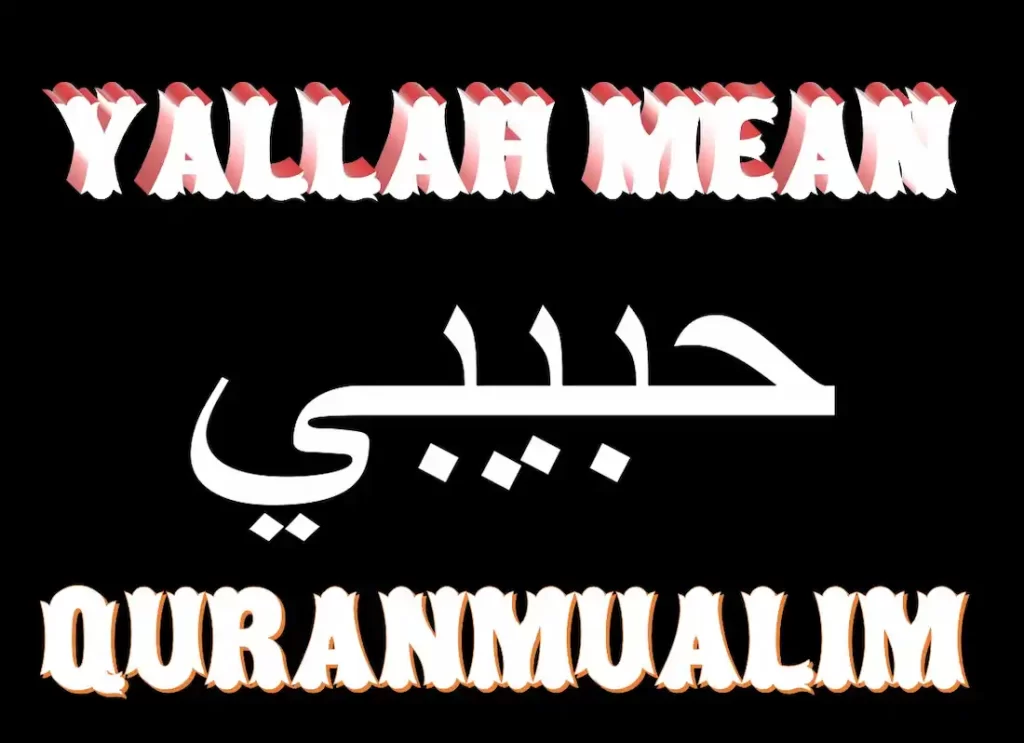 CONCLUSION
These expressions, and many others, are you interested in learning?